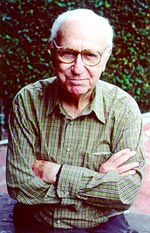 David Raksin began his long and distinguished career in films in 1935, when he came to Hollywood to assist Charlie Chaplin with the music of Modern Times.
He has since composed music for more than 100 films, including Laura, the theme of which has become one of the most often recorded pieces in the history of that medium, with more than 400 different versions.

He began his musical studies as a pianist, and was later instructed in woodwinds by his father, a conductor and performer in concert bands and for silent movies who also played in the renowned Philadelphia Orchestra. David led his own dance band at age twelve, later expanding it for broadcasting on the local CBS radio station, WCAU. He taught himself orchestration while a student at Philadelphia's prestigious Central High School, where he received a bona fide B.F.A. He then put himself through the University of Pennsylvania by playing in society bands and radio orchestras, earning a Mus. B. and winning several prizes while also arranging and conducting the first programs of written and improvised jazz at football games.

Upon graduation from Penn he went to New York City where he played and sang with various bands and arranged for radio and recording orchestras. The pianist in one of the latter, Oscar Levant, alerted his friend George Gershwin to an upcoming broadcast of Raksin's remarkable arrangement of "I Got Rhythm." Gershwin's enthusiasm led him to recommend the young musician to the famous Harms/Chappell team that arranged the music of nearly every Broadway show of that time. It was while he was in Boston for the out-of-town tryout of a musical that he received an invitation to come to Hollywood to work with Chaplin. After they finished the score of Modern Times, he joined Edward Powell in orchestrating the music. He was now twenty-three. The following year he served as assistant to the great conductor, Leopold Stokowski, who premiered his concert piece, Montage, with the Philadelphia Orchestra.

Since that time, David has had a widely diversified career in various fields. His many film scores include The Bad and the Beautiful, Forever Amber, Carrie, Force of Evil, The Secret Life of Walter Mitty, Separate Tables, Too Late Blues, The Redeemer and The Bad and The Beautiful.

Among his 300-plus television programs were the themes and scores for Ben Casey and Life With Father as well as various CBS, NBC and ABC features. He also composed and conducted theme and score of the Canadian Broadcasting Corporation documentary, The Olympics: A History of the Golden Games. He appeared often on television, including the CBC program on film music, with Aaron Copland and Sir William Walton, and (his debut as a television actor) on the pilot of the CBS series, Beacon Hill. He wrote and narrated on CBS Camera Three a program on the music of his friend and colleague, Bernard Herrmann.

For radio he wrote, narrated and conducted interviews for a three-year series of 64 hour-long programs, The Subject is Film Music. The master tapes of this series are now in the Library of Congress, which has pronounced them "the finest oral history of the (film composing) profession." His stage works include three (produced) musicals: If The Shoe Fits, Feather in Your Hat and The Wind in the Willows; several ballets and incidental music for plays, including Volpone, Noah, The Prodigal and Mother Courage (new score of songs for the UCLA Theatre Group, reprised 1975 by Princeton's McCarter Theatre). At the request of the composer, Raksin made the original instrumentation of Igor Stravinsky's Circus Polka, as choreographed (for elephants!) by George Balanchine for the Ringling Bros./Barnum and Bailey Circus. [At the dress rehearsal in the ring at Madison Square Garden, on first hearing, the elephants stampeded, which was much appreciated (as an endorsement) by both composer and arranger].

David Raksin's concert works, many of them adapted from his film scores, have been performed by such ensembles as the Philadelphia Orchestra, The New York Philharmonic, the Chicago Symphony, the British Broadcasting Corp. Orchestra, the Boston Pops, the Canadian Broadcasting Corp. Symphony, the London Symphony and the San Francisco Symphony (10 performances of his Toy Concertino, as well as "A Song After Sundown," commissioned by the American Guild of Organists for the inauguration of the Ruffati concert organ at Davies Hall). He has conducted his own compositions at Hollywood Bowl four times; also at Royce Hall, UCLA, and at Lincoln Center with the American Symphony Orchestra. At some concerts he featured sequences from his film scores, synchronized with projected film. For the Monday Evening Concerts in Los Angeles he conducted the premieres of several contemporary works.

Raksin is the first member of his profession to have received a commission from the Elizabeth Sprague Coolidge Foundation of the Library of Congress. His composition, Oedipus Memneitai (Oedipus Remembers), for bass/baritone narrator/soloist, six-part mixed chorus and chamber ensemble, text by the composer, was conducted by him at a Founder's Day Concert premiere in the Coolidge Auditorium, October 30, 1986.

He has composed numerous songs and smaller pieces, among them concert versions of "The Serenade" from The Unicorn in the Garden and "Hoofloose & Fancy Free" from Giddyap; The Fable of the Fox and the Grapes . . . and the Giraffe! for narrator and mixed chorus; a version of clarinet and piano of "Love is for the Very Young," theme of The Bad and the Beautiful; Hasten the Day (words by Norman Corwin) for chorus and organ; a five-part madrigal, Simple Symmetries; a version of clarinet and string quartet of "A Song After Sundown," commissioned by the virtuosissimo, Eddie Daniels; "Mother and Father Waltzing (I Think She's Leading!)" for piano and chamber ensemble; and incidental music for the Los Angeles 200 Celebration at City Hall.

David Raksin is the first film composer invited by the Library of Congress to establish a collection of his manuscripts at its Music Division (see Quarterly Journal of Current Acquisitions, Nov., 1956). He presented a lecture/demonstration of his music for films there in conjunction with the publication in the Quarterly Journal, July 1978, of an extensive article about that music. Wonderful Inventions, a coffee table book published by the Library of Congress in 1985, includes three articles devoted to his career in films: "David Raksin: A Composer in Hollywood," "A Sound Idea: Music for Animated Films," and the composer's account of his work with Chaplin on Modern Times, "Life with Charlie."

He is the subject of oral histories from Yale University and Southern Methodist University. Career studies and discussions of his music appear in Film Music: A Neglected Art by Roy Prendergast, Norton; Film Music Notes; Main Title Quarterly; Hollywood Quarterly; Film Music Notebook; Who's Who; Dictionary of International Biography; The Technique of Film Music; Perspectives of New Music; Lectionary of Music by Nicolas Slonimsky; Films in Review; Teamwork in der Traumfabrik, Henschel, Berlin; Baker's Biographical Dictionary of Musicians; American Popular Song; and others. Also many articles in various news journals including The New York Times, The Washington Post, the Los Angeles Times and Associated Press.

A retrospective of films scored by Mr. Raksin was given by the British Film Institute in London in 1976, and he was the subject of the television program, Men Who Make Music. Other films include Christian Blackwood's documentary, Hollywood's Musical Moods; several BBC, French, CBC, Danish television features; a documentary, David Raksin: A Film Portrait (Bilder, Die Mann Hören Kann), for Bavarian TV. He has also been the subject of features by the National Public Radio network program, Composers Forum, as well as Voice of America, Options, Voices in the Wind (NPR). He was also featured in the Hollywood Bowl Museum's exhibition on film music.

David served as President of the Composers & Lyricist Guild of America for eight terms (1962-70); in that capacity he presided over two Hollywood Bowl concerts, the second of which was recorded by Columbia Records and videotaped by CBS for its televised International Hour. He led a delegation of American composers to Brazil for the Festival Internacional Da Cancoa Popular in Rio de Janeiro; (where, at the request of his hosts, he reverted to his dance band days and sang "Laura" for their audience of 18,000 in the Maracanazinho Stadium – finishing the song in Portuguese!). He recently appeared as a raconteur at Los Angeles's Jazz Bakery and has been requested to return. He was a delegate to the Festival Onda Nueva in Caracas, Venezuela; member, State Department Panel on International Copyright, following this with a monograph on Problems Arising from the Protocol Regarding Developing Countries, of the 1967 Stockholm Conference.

He has written a number of stories and articles, among them a small collection titled Likely Stories. In addition to his memoir of the work with Charlie Chaplin, the Library of Congress has published Holding a 19th Century Pedal at 20th Century-Fox; A Game of Tests with the Maestro (Leopold Stokowski); and George Gershwin: a Presence in My Life. The journal of the Arnold Schoenberg Institute at USC, s e r i a l, has published his memoir of his studies with the great composer. He has completed the text of a study/survey of Modest Mussorgsky's Pictures at an Exhibition, designed for the CD/ROM medium. As of this writing he has identified 98 versions (for various forces) of the original suite.

He has taught Composition for films since 1956 at USC, where he is now an Adjunct Professor; from 1968 to 1989 he was also a member of the Core Faculty of the Los Angeles Semester in USC's School of Public Administration, a 16-unit program dealing with Urban Ecology. From 1970 to 1992 he was a Senior Lecturer at UCLA, and also served as a Visiting Professor in the College of Creative Studies at U.C. Santa Barbara; artist-in-residence or guest composer at many campuses, including U.C. Berkeley, -San Diego and -Irvine; California Institute of the Arts; Rice University; American Film Institute - Los Angeles and Kennedy Center; American Historical Society; Oakland Museum; American Society for Aesthetics; Michigan and Harvard Universities. He delivered the principal address at the opening session of the American Guild of Organists Convention in St. Mary's Cathedral, San Francisco; also presented a lecture/demonstration of his music for The Redeemer at the Museum of Modern Art, New York City, October 19, 1993.

Raksin is affiliated with the following: The Film Music Society (President, 1992-1996); Society of Composers & Lyricists (Advisory Board); Songwriters Guild of America; American Federation of Musicians (A F of M); American Society of Music arrangers & Composers (ASMAC); Screen Composers of America (SCA): Board of Directors; Dramatists Guild of America. Elected to the Board of Directors, American Society of Composers, Authors & Publishers (ASCAP - 1996).

Among the honors that have accrued to David Raksin for his music are: The first Max Steiner Award for Achievement, National Film Society (1980); Career Award from the Academy of Science Fiction and Fantasy (1979); Golden Score Award from the American Society of Music Arrangers; Best Film Music Album of 1976, Soundtrack Collectors Newsletter, Belgium; Career Achievement Award from the Society for the Preservation of Film Music; Citations from the Los Angeles City Council & L.A. County Board of Supervisors; Awarded ASCAP's Golden Soundtrack Trophy for Career Achievement, 1992; Appeared at the Flanders Film Festival, Ghent, Belgium, in symposia, etc., 1993; Guest of Honor at Écrans Sonores 93 Film Festival, in Biarritz, France, which declared November 18 "David Raksin Day." Several programs of films for which he has composed music were presented, including Laura and Les Ensorcéles (The Bad and the Beautiful). At the celebration he sang "Laura" - this time in French. He has been invited to spend several weeks in residence at the (Johannes) Brahms House in Baden Baden, Germany, in November 1994.

David Raksin passed away on August 9, 2004.





Raksin Remembers...

For sale to members only!



David Raksin Remembers His Colleagues: Hollywood Composers
Published by The Stanford Theatre Foundation, 1st printing, 47 pp, softcover
Foreword by David W. Packard



©1995 David Raksin, All Rights Reserved



David Raksin Remembers His Colleagues: Hollywood Composers, is a collection of fascinating essays written by Mr. Raksin in association with a festival of classic film scores at the Stanford Theatre in Palo Alto, California in April 1995. This limited edition is now available for purchase only through The Film Music Society, and only by members!

Each essay offers candid insight into the life and career of some of the most important composers in film history – Aaron Copland, Hugo Friedhofer, Bernard Herrmann, Erich Wolfgang Korngold, Alfred Newman, Miklós Rózsa, Max Steiner, Dmitri Tiomkin and Franz Waxman, along with an autobiographical essay – all from Mr. Raksin's unique perspective.

A limited number of these books are available to members only for $20 plus s/h. Please call, write or email us to buy your copy.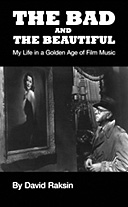 David Raksin's son Alex has digitally released his father's previously unpublished memoirs on Amazon.