Music from CBS Westerns is now available for purchase by members only!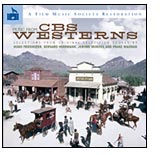 The Film Music Society has issued their first in a series of compact discs presenting original film and television music: The long-awaited Music from CBS Westerns is a collection of never-before-released music tracks from three classic western television series produced and broadcast by CBS in the 1950s and 1960s. Members who have patiently awaited their copies should be receiving them in the mail any day.

Featured are suites from three episodes of Gunsmoke – "Stolen Horses" with music by Jerome Moross, "The Raid" with music by Franz Waxman, and "Harriet" with music by Bernard Herrmann – along with a suite of Hugo Friedhofer's music from the Rawhide episode "Six Weeks to Bent Fork" and Bernard Herrmann's music from the Cimarron Strip episode "Knife in the Darkness." Total running time is 66 minutes.

When The Film Music Society was invited to archive the vast collection of materials of the now-defunct CBS Music Library, the collection had already been looted of many treasures, including the original open-reel tapes of many classic scores. However, acetate discs existed of much of the music recorded over three decades at the network.

This album was drawn from several sources: "Stolen Horses" and "Harriet" came from surprisingly well-preserved acetate discs. "The Raid" was discovered intact on open-reel tapes, as was most of "Six Weeks to Bent Fork" (although the long suspense cue near the end of the score could only be located in acetate form). Similarly, "Knife in the Darkness" was intact on acetates. The Special Collections Department of the UCLA Music Library is now the repository for both the acetates and the tapes – as well as the few surviving manuscripts of original music, much of which was apparently lost or destroyed over the years – and is now in the process of inventorying this important collection.

Music from CBS Westerns is a Limited Edition, with only 1,000 copies manufactured. The CD is available for $20 to Society members only. If you would like to become a member of The Film Music Society, or if you would like to upgrade your already-existing membership, please visit our Membership page to see how you can receive a complimentary copy.

Music from CBS Westerns is the first CD release under the new banner, "A Film Music Society Restoration." Future releases will be announced in the weeks to come. Remember, they will not be sold in stores or online except through our website!