Print this article
OBITUARY...


August 1, 2003

Hope Sprang Eternal

Beloved Entertainer Bob Hope Dead at 100
by Marilee Bradford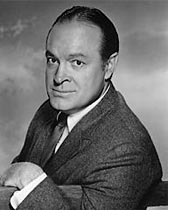 B
ob Hope, one of the most recognized and celebrated personalities in show business history, died of pneumonia late Sunday night, July 27, at his home in Toluca Lake, California. He was 100 years old.

Known for his good-natured, self-deprecating one-liners with rim-shot timing that sent three generations to their knees in laughter, Hope's unique contributions to the world of show business go to the very heart of every performance medium – Vaudeville, Broadway, radio, film, television, nightclub and concert – spanning most of the 20th Century.

"Bob Hope was a pretty damn good singer," recalls two-time Oscar-winning wordsmith Ray Evans, who (with partner Jay Livingston) wrote songs tailored to Hope for a dozen movies as well as many television and concert appearances. "He could interpret a lyric. He knew his way around a song." Hope's first screen performance of a Livingston and Evans tune was "Buttons and Bows" from The Paleface (1948), which earned the songwriters their first Academy Award. Evans adds, "It was a joy writing for him because he liked us and he trusted us, and he could handle anything."

According to Hope's colleague and friend, entertainer Michael Feinstein, "Bob was always extremely grateful to songwriters for helping make his career a success in Hollywood." Hope's most significant musical performance happened to be his first feature film. In The Big Broadcast of 1938, Hope and Shirley Ross debuted "Thanks for the Memory," which won a Best Song Oscar and quickly became Hope's "signature" theme. Feinstein says that Hope was deeply indebted to the song's composer Ralph Rainger and lyricist Leo Robin. "He credited 'Thanks for the Memory' as being the single most important event that launched his film career."

Evans agrees. "'Thanks for the Memory' was one of the greatest songs that was ever written. It tells the whole story of a relationship in 32 bars with witty, urbane lyrics, and it was delivered so beautifully. You say [Bob Hope] did justice [to it]? He did more than justice."

Born Leslie Townes Hope on May 29, 1903, in Eltham, England, his family moved to Cleveland, Ohio in 1907 (Hope once lamenting, "I left England at the age of four when I found I couldn't be king"), where he quickly took to "the boards" in amateur Vaudeville shows.

A natural singer/dancer by his late teens, he teamed with various partners before becoming a "single" in New York. There he caught the attention of the critics with winning roles in smash hit Broadway musicals, introducing such classic song standards as Ira Gershwin and Vernon Duke's "I Can't Get Started" (Ziegfeld Follies, 1936) and Cole Porter's "It's De-lovely" (Red Hot and Blue, 1936).

Hope's musical and comedic styles came into their own with his first major radio appearance on The Fleishmann Hour, leading to a 20-week contract for NBC's Woodbury Soap Show and then, in 1938, his own NBC show (sponsored by Pepsodent) which ran for more than 18 years. His solid presence on the air continued throughout his career, and he was notably the most popular radio performer of all time.

Hope's affiliation with NBC forged his unprecedented television career (which reached a 60 year milestone in 1996.) As the No. 1 headliner in living rooms across America, his popularity soared with countless network specials, personal appearances and his own variety series, The Bob Hope Show (1953–1956).

His radio success also led him to Hollywood and a long-term contract with Paramount Pictures. There he starred in nearly 60 films, most of them featuring new songs introduced by Hope, such as Hoagy Carmichael's "Two Sleepy People" (sung with Shirley Ross) in Thanks for the Memory (1938); the Ray Evans/Jay Livingston perennial "Silver Bells" from The Lemon Drop Kid (1951); and several notable tunes by James Van Heusen and Johnny Burke for the Hope/Crosby/Lamour "Road" pictures.

Hope's selfless and unwavering commitment to the morale of servicemen and women remains legendary. For nearly 60 years – through World War II, Korea, Viet Nam and Desert Storm – his goodwill tours brought incomparable pleasure and solace to U.S. military troops worldwide, in war and in peacetime.

He is cited by the Guinness Book of Records as the most honored entertainer in the world, with more than 2000 awards and citations for his humanitarian and professional endeavors. Among them are the Congressional Gold Medal from President Kennedy, the Medal of Freedom from President Johnson, a Medal of the Arts from President Clinton; and in 1998, by order of Her Majesty Queen Elizabeth II, the Knight Commander of the Most Excellent Order of the British Empire (KBE) in recognition of his contribution to film, to song and to the entertainment of troops.

Hope co-produced and hosted Bob Hope Presents the Chrysler Theatre (1963–67), which author/journalist Jon Burlingame calls "TV's last great dramatic anthology series."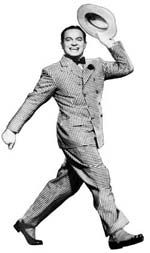 Burlingame points out that the show was "responsible for some of television's finest dramatic music in the mid-1960s," and adds that the Chrysler Theatre series "provided meaty scoring opportunities for John Williams [who penned the series theme], Jerry Goldsmith, Benny Carter, Lalo Schifrin, Bernard Herrmann, Quincy Jones, Johnny Mandel and others."

Hope often joked about the fact that he never won an Oscar for acting: "Oscar night at my house is called Passover." But he was well recognized by the Academy of Motion Picture Arts and Sciences as the recipient of two honorary Academy Awards, two special Oscars and the Jean Hersholt Humanitarian Award.

Hope is survived by his wife of 69 years, singer Delores Reade, four adopted children and four grandchildren.






Ceremony featured Best Song performances by Timberlake, Sting, Legend
Ellington, North, Goldsmith, Rorem, Schickele among top recordings
Composers Johannsson, Richter explain what happened
Composers Poledouris, Rose added to Hall of Fame