Print this article
FMS FEATURE ARTICLE...


October 31, 2003

How The West Was Won

Gehry and Salonen advance L.A. culture with film music as noteworthy concert fare at the Walt Disney Concert Hall 3rd night gala
Commentary by Jon Burlingame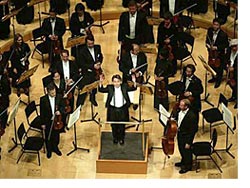 T
he hoopla is over, the reviews are in, and yet there is still something that needs to be said: Last Saturday's third and final inaugural concert of the Walt Disney Concert Hall was one of the most important nights in the history of film music.

Los Angeles' new concert venue, the home of the Los Angeles Philharmonic, has been widely hailed for its Frank Gehry design, for its importance as a cultural symbol for L.A., and for its remarkable acoustical properties.

Initially surprising, and then exciting, was the decision by Philharmonic management to launch the hall with three gala evenings – one of which would be entirely devoted to movie music. Night one, "Sonic L.A.," would show off the hall's acoustics, from solo voice to small ensembles to full orchestra, featuring a wide range of repertoire from Mozart to Stravinsky; night two, "Living L.A.," would consist of 20th- and 21st-century music, including a piece by music director Esa-Pekka Salonen and a new work by John Adams.

But night three, "Soundstage L.A.," was to focus on the city's long and illustrious history of original music for motion pictures. The concept was a jaw-dropper.

It's true, the L.A. Philharmonic has often played film music, especially at the Hollywood Bowl, mostly in the '40s, '50s and '60s. The Phil even played Stu Phillips' original score for television's Battlestar Galactica in 1978. But film music has not, in recent years, been a regular presence at the Dorothy Chandler Pavilion, the orchestra's home since 1964.

And as anyone who regularly attends symphony concerts knows, film music is usually ghettoized as worthy only of "pops" concerts (unless the composer is already an accepted name in the concert world, such as Copland, Walton, Prokofiev or Corigliano). Even in L.A., conductors John Mauceri and John Williams regularly pack the Hollywood Bowl with summertime film-music concerts, but they're rarely taken seriously by critics.

But here, as part of the three-night opening of Disney Hall, the Phil would perform seminal orchestral works by eight of the great composers in Hollywood history (plus vocal renditions of themes by two others). And on Saturday, October 25, with Salonen and Williams sharing conducting duties, they did. This writer was privileged to have been asked to pen the program notes and thus was one of the lucky 2,200 to attend.

Williams' new work, "Soundings," opened the program. Designed to showcase the sonic capabilities of the hall, it was a fascinating 13-minute excursion into musical sounds and effects. The rest of the program was devoted to film music, starting with Max Steiner's King Kong (1933, a new suite based on the John Morgan-William Stromberg reconstruction) and Erich Wolfgang Korngold's The Adventures of Robin Hood (1938), both conducted by Salonen.

Williams completed the first half of the program, conducting his own arrangement of Alfred Newman's Wuthering Heights (1939), featuring a beautiful violin solo by concertmaster Martin Chalifour, and Miklos Rozsa's Madame Bovary waltz (1949).

After intermission, a segment was devoted to great Hollywood songs. Brian Stokes-Mitchell sang David Raksin's "Laura" in a new orchestral arrangement by Eddie Karam (which owed a considerable debt to Raksin's original); and Williams, at the piano, accompanied Josh Groban in Harry Warren's "An Affair to Remember" and the remarkable Audra McDonald in Henry Mancini's "Two for the Road." McDonald's second song was the obscure "10,432 Sheep" by Jule Styne and Sammy Cahn from The West Point Story (1950). With the latter, Salonen and the Philharmonic players – all of whom participated vocally – demonstrated that a) they could swing, and b) in the midst of all this serious music, they had a sense of humor.

Williams conducted Elmer Bernstein's The Magnificent Seven (1960) and his own suite from Close Encounters of the Third Kind (1977), the latter of which has never sounded better in concert. Salonen returned to conduct, in a truly thrilling performance, Jerry Goldsmith's Planet of the Apes (1968, "The Hunt" sequence) and excerpts from two Bernard Herrmann scores: Vertigo (1958, the Main Title, "Nightmare" and "Scene d'Amour") and On Dangerous Ground (1951, the "Death Hunt" chase). The latter, chosen by Salonen for its exciting, sonically spectacular nature, was performed at breakneck speed (shaving 12 seconds off the Charles Gerhardt version, for example).

The encores were a pair of Americana classics, both from 1962: Bernstein's touching To Kill a Mockingbird and Newman's rousing How the West Was Won. Standing ovations were no surprise. The audience, which included many Hollywood movers-and-shakers, was wowed.

The work of other composers, notably Franz Waxman and Alex North, was unfortunately and conspicuously absent. But the importance of the evening had little to do with which music was or wasn't included. In a larger sense, it was about acceptance of film music in the concert hall,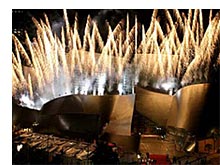 by an orchestra that is now widely considered one of the finest anywhere – and whose home happens to be the movie capital of the world. If the Los Angeles Philharmonic and its charismatic, brilliant conductor can accept the music of Steiner, Newman, Goldsmith et al., then perhaps other respected musical institutions will also open that door – the one that has been closed for so long to composers of mere "movie music," but whose work has become one of the great musical contributions to American culture.





Error: DISTINCT YEAR query failed