Print this article
FMS FEATURE ARTICLE...


November 21, 2003

Michael Kamen Dead at 55

Revered composer of film, rock, concert music was also a respected humanitarian
by Jon Burlingame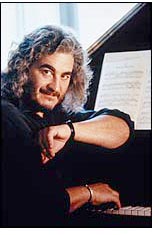 M
ichael Kamen, the Grammy-winning, Oscar-nominated composer and conductor, died of an apparent heart attack Tuesday morning, November 18, at his home in London. He was 55.

Kamen's unexpected death shocked the film-scoring community, for although he recently disclosed that he had suffered from multiple sclerosis since 1996, he continued to feel well and maintain a heavy work schedule, composing the scores for HBO's 10-part World War II miniseries Band of Brothers and for this year's Kevin Costner western Open Range. His music for the Meg Ryan film Against the Ropes will be heard when that film is released early next year.

Kamen was best known for his music for action films including all four Lethal Weapon and three Die Hard movies, as well as Robin Hood: Prince of Thieves – which won him two 1991 Grammys – and such other movies as Brazil, The Adventures of Baron Munchausen and the James Bond film Licence to Kill.

His movie songs were equally popular, including the number-one hit "(Everything I Do) I Do It for You" from Robin Hood and "Have You Ever Really Loved a Woman" from Don Juan DeMarco – which were Best Song Oscar nominees in 1991 and 1995, respectively – and "It's Probably Me" from Lethal Weapon 3, a 1992 Grammy nominee.

He won two other Grammys, for his "American Symphony" from Mr. Holland's Opus in 1996, and for his album with Metallica and the San Francisco Symphony in 2000.

Unlike many orchestral film composers, Kamen was also at home in the rock field. While studying at New York's prestigious Juilliard School of Music in the late 1960s, he founded the New York Rock and Roll Ensemble. Later he served as musical director for David Bowie's Diamond Dogs tour; provided the orchestral arrangements for Pink Floyd's The Wall; and arranged songs for many pop artists including the Eurythmics, Aerosmith, Sting, Eric Clapton, Bob Dylan, Bryan Adams and others.

He was born in New York City and began playing piano at the age of 2, later learning to play guitar, oboe and clarinet. After Juilliard, he composed a series of ballet scores for such companies as Alvin Ailey and the Joffrey.

Kamen's first film score was for The Next Man in 1976. His more than 60 others also included The Dead Zone, Mona Lisa, Highlander, Last Action Hero, Circle of Friends, The Winter Guest, What Dreams May Come, The Iron Giant and the first X-Men.

Although Robin Hood: Prince of Thieves may represent his best work, particularly in the period-adventure genre, Kamen created a fun, highly contemporary sound for the Lethal Weapon films starting in 1987, with Eric Clapton on guitar and David Sanborn on saxophone; and high-energy orchestral work for the Die Hard franchise beginning in 1988.

In addition to Band of Brothers, his television scores included the Emmy-nominated theme for the HBO series From the Earth to the Moon and music for the series Amazing Stories and Tales From the Crypt.

In 1995, as a result of his work on the film Mr. Holland's Opus, Kamen, star Richard Dreyfuss and director Stephen Herek founded The Mr. Holland's Opus Foundation, a non-profit organization that provides musical instruments for school children and around the country.

He was especially committed to the Foundation, often conducting fund-raising concerts and making himself available for interviews about the increasingly dire state of music education in American schools. He also was associated with the Young Musicians Foundation for several years.

Kamen's concert works included a symphony, "The New Moon in the Old Moon's Arms," commissioned by the National Symphony Orchestra and premiered in 2000; and concertos for saxophone and guitar.

He wrote "Light the Fire Within" for the opening ceremonies of the 2002 Winter Olympics in Salt Lake City; served as one of the musical directors for the Golden Jubilee of Queen Elizabeth II at Buckingham Palace; and composed and produced When Love Speaks, an album of Shakespeare sonnets read by leading actors, as a fundraiser for the Royal Academy of Dramatic Arts.

Survivors include his wife Sandra Keenan-Kamen, daughters Sasha and Zoe Kamen, his father and three brothers. Funeral arrangements are pending; in lieu of flowers, the family has requested that donations in Kamen's name be made to the Mr. Holland's Opus Foundation, 15125 Ventura Boulevard, Ste. 204, Sherman Oaks, Calif. 91403.






Ceremony featured Best Song performances by Timberlake, Sting, Legend
Ellington, North, Goldsmith, Rorem, Schickele among top recordings
Composers Johannsson, Richter explain what happened
Composers Poledouris, Rose added to Hall of Fame