Print this article
FMS FEATURE ARTICLE...


January 16, 2004

In Remembrance of Michael

More than 400 colleagues gather to commemorate composer Michael Kamen
by Jon Burlingame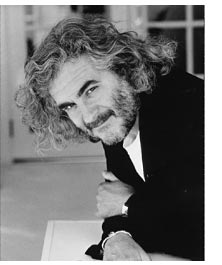 C
omposer Michael Kamen was remembered as a versatile musician, a generous mentor and a caring friend at a memorial service Tuesday night, January 13, in the Darryl F. Zanuck Theatre on the 20th Century-Fox lot in Century City, California.

More than 400 friends and colleagues attended the 95-minute gathering, called "a celebration of the life of Michael Kamen" and sponsored by The Mr. Holland's Opus Foundation, which he founded and had continued to support.

Kamen died November 18, and while he had suffered from multiple sclerosis since 1996, it was a heart attack that claimed him. The two-time Oscar nominee and four-time Grammy winner was 55, and his unexpected passing shocked the film-music community.

As the audience filed in, a black-and-white image of a smiling Kamen appeared on the giant screen in the Zanuck Theatre as a 16-member musical ensemble warmed up. Fox Music President Robert Kraft opened the service by recounting an anecdote about the scoring of 1991's Hudson Hawk, on which Kamen and Kraft shared credit.

"He was the genius composer of that film; I was far more the student than a partner," Kraft conceded, recalling a day when Kamen -- sitting at the Kurzweil where he so often composed -- created a complicated, seven-minute action finale while he was on the phone with producer Joel Silver. Kraft marvelled at Kamen's ability to juggle the demanding Silver in one ear while watching the film and simultaneously catching the appropriate dramatic moments, which needed few adjustments in the final version. "It's my favorite cue in the movie," Kraft said.

Comedian Eric Idle served as host for the evening, entertaining the crowd with bawdy moments from his friendship with Kamen, including their collaboration on the four-minute opera "The Torturer's Apprentice," written for The Adventures of Baron Munchausen (1989), and the now-infamous song "A Eunuch's Life Is Hard" from the same film. "He's probably up in heaven, preparing an overture for the Nuclear Winter Olympics," Idle quipped.

Idle also announced that London's Royal Academy of Music had named Kamen an honorary member, the first time that such an honor has been posthumously bestowed.

Jeff Pollack, a friend of Kamen's for three decades, reminded the audience that Kamen was so "hopelessly late" for every appointment that the term "Kamen time" was coined. Yet, he noted, Kamen was a fine cook who could improvise for "four or forty" guests.

"His magnetism, his positive energy, was not to be denied," Pollack said, citing his courage in the face of Kamen's increasingly debilitating MS -- about which, Pollack added, he never complained.

An emotional Doreen Ringer Ross, who is both a vice-president of BMI and president of the board of directors of The Mr. Holland's Opus Foundation, remarked that Kamen "lived life more fully than anyone else I know." She talked about her belief that the past year had been "a profound circle of closure" for Kamen even though no one suspected that it would be his last.

She cited the Spirit of Life Award that he had accepted from the MS Foundation in September and his commitment to The Mr. Holland's Opus Foundation, which provides musical instruments for high-school students around the country. "Michael was so proud of how his dream had flourished," she said. Yet, she spoke for many in the audience when he added that his death "leaves an enormous hole in the fabric of my life."

Composer Edward Shearmur, who was Kamen's assistant for several years, praised Kamen's generosity of spirit. He painted an image familiar to many: "his extravagant conducting, broad grin and flying mane of hair" on the podium. Shearmur's comment that "he didn't feel stress, he was a carrier," brought a knowing laugh from colleagues in the audience.

Felice Mancini, executive director of The Mr. Holland's Opus Foundation, read Kamen's final message to Foundation supporters and noted that more than 100,000 music students had been aided by the foundation since its inception. "Michael has left a legacy for future generations," she said, urging attendees to "embrace his dream" and contribute to the fund. (Kamen's family has requested that donations in his memory be made to the Foundation at 15125 Ventura Boulevard, Suite 204, Sherman Oaks, CA 91403).

Actor Tim Curry, whose first albums were arranged by Kamen, recounted amusing anecdotes about their vacations in Barbados. Kamen's faux English accent, he said, "sounded like a strangled Yorkshire miner." He had "an ego the size of Manhattan, and the talent to back it up," Curry said, adding that "he was an incurable optimist, a fearless friend, and the best father I ever knew."

Interspersed throughout the evening were musical interludes, including two classical favorites of Kamen: the Mozart oboe quartet (featuring Tom Boyd, oboe); and the adagio from Bach's concerto for oboe and violin (with Boyd and violinist Bruce Dukov). The musicians also performed "Cole's Song" from Mr. Holland's Opus (1995) and "Marian at the Waterfall" from Robin Hood: Prince of Thieves (1991).

Kamen's cousin Julianna Raye sang "Holding All My Love for You," which she wrote with him for his last released film, the Kevin Costner western Open Range. And singer-songwriter Keb'Mo performed "Let Bygones Be Bygones" in memory of his friend.

Representing the Kamen family was Michael's younger brother John, who reported that the family hopes to arrange a concert of Kamen's music to commemorate his life and work. He also suggested that a series of "young people's concerts" could be created in recognition of Kamen's dedication to children and music.

The evening concluded with a seven-minute video presentation of photographs and film of Kamen at work (including tributes from performers Eric Clapton, Annie Lennox and Bryan Adams) and a champagne toast to Kamen's memory by his brother John and longtime manager Robert Urband.






Ceremony featured Best Song performances by Timberlake, Sting, Legend
Ellington, North, Goldsmith, Rorem, Schickele among top recordings
Composers Johannsson, Richter explain what happened
Composers Poledouris, Rose added to Hall of Fame