Print this article
FMS FEATURE ARTICLE...


February 20, 2004

Part III

Richard Shores Remembered

A look back at the life and career of a remarkable composer
by Jon Burlingame
Editor's Note: This is the third of a three-part tribute. You may access Parts I and II by following the links in the sidebar to the right.
I
t was in 1969 that Richard Shores embarked on one of his best, and best-remembered, runs as a composer: Fifteen episodes of Hawaii Five-0.

His work began in the series' second season ("Forty Feet High, and It Kills!", 1969), ended in its seventh ("We Hang Our Own," 1974), and proved to be one of his most lucrative ongoing series. (A first-season episode credited to Shores, "Face of the Dragon," appears to have been tracked with Shores music from other CBS series of the time.) Not only was the show a big success on the network – and later in syndication – but Shores' music was tracked into many other episodes, resulting in substantial royalties even for shows that he didn't score.

Five-0 remains one of the finest police dramas in television history, and its Morton Stevens theme is, without a doubt, a high point in TV scoring of the time. Stevens ran the CBS music department, and he created the musical style for Steve McGarrett, Dan-O Williams and company. But Five-0 also boasted significant musical contributions from such other composers as Bruce Broughton, Don Ray and Shores.

Shores was assigned the first three appearances of McGarrett's nemesis, Wo Fat, after the pilot: "Forty Feet High, and It Kills!" and "A Bullet for McGarrett," both in the second season, and "And a Time to Die...," the third-season opener in 1970. "Forty Feet High" and "Time to Die" are both exceptionally strong scores, the former featuring electronic elements, the latter jazzy organ and brass. He also scored the only two-parter in the second season, "Three Dead Cows at Makapuu," in February 1970.

In the meantime, work continued to pour in. Paramount called Shores to do a Mannix ("A View of Nowhere" with Michael Wilding, 1968). Sheldon Leonard Productions hired him to do episodes of the detective drama My Friend Tony (1969). MGM, first under Robert Armbruster and later under Harry Lojewski, continued to employ Shores on its shows, mostly in the '69-'70 season: four Medical Centers, including episodes with Barbara Rush and a young Peter Strauss, and three installments of Michael Parks' motorcyclist-hits-the-road drama Then Came Bronson. CBS kept Shores busy, too, with The Storefront Lawyers (1970), its successor, Men at Law (1971), and three more Gunsmokes (1971-72).

Shores's first assignment at 20th Century-Fox was Anna and the King, the 1972 sitcom version of The King and I with Yul Brynner and Samantha Eggar. He did three episodes and, as with Jericho and the U.N.C.L.E. series, found himself following the lead of Jerry Goldsmith, who had penned the theme and pilot score. "He's my favorite composer of all time," said Shores. "He's fantastic. I have always admired him." (Shores later returned to Fox for one more series, doing five episodes of the critically acclaimed law-school drama The Paper Chase in 1978.)

In 1973, Shores moved to Columbia. "I didn't think I was burned out, but in retrospect maybe I was. It was a good thing I moved on. I went to Columbia for at least six years," Shores remembered. "I did a lot of Police Woman, and a number of Police Storys. A lot of my music was tracked on Police Story." (In fact, Shores' library music for Police Story, recently issued on Prometheus CD PCR 507, contains strong echoes of Goldsmith's original – precisely what was asked for, and highly effective.)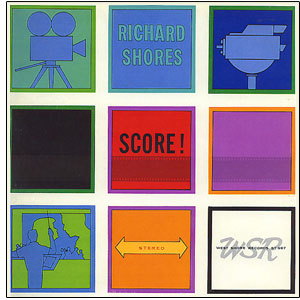 "I remember the first Police Story I did, 'The Ho Chi Minh Trail.' Dick Berres, the music director over there at the time, told me that Jerry had recommended me," Shores said. Unlike many of his colleagues, Shores' ego didn't preclude him from incorporating other composers' thematic material, or even their styles, in his music. It was always nice to hear the Police Story theme, or Richard Markowitz's Wild Wild West theme, in an episode underscore.

Shores became a favorite composer at Columbia, even to the point of being called in to rescore a part of the Sean Connery-Audrey Hepburn feature Robin and Marian in 1976.

"He was a real nice guy," remembers Berres, who was in charge of all music at the studio. "When he took an assignment, you never had qualms about him completing it. He managed to please the producers. He was a very competent composer."

Shores' final two series themes were for Columbia: The Quest (1976) and Hunter (1977). The Quest was a short-lived western starring Tim Matheson and Kurt Russell as brothers searching for their sister who had been kidnapped by Indians, and Shores' theme offered a surprisingly contemporary take on the traditional western-trail-ride sound. Shores loved the pilot: "When I saw the picture, God, that was exciting, because it looked like a feature. You don't get that every day."

Hunter, an even more short-lived series, may have been the first American spy series to admit that our side was as dirty as the opposition. James Franciscus and Linda Evans starred as undercover agents, and Shores' theme was a rare instance of a television score featuring a cimbalom (the unusual Hungarian percussion instrument that made such a splash in 1965's The Ipcress File) in the main title. That music still haunts those few of us who watched the eight episodes Friday nights on CBS.

For A Killing Affair – a 1977 series pilot starring Elizabeth Montgomery and O.J. Simpson as police detective partners – Shores wrote one of his best themes: a heartbreaking piece for piano and strings. (Shores' late-'70s demo tape also featured a funky source-music version of this theme for synths and rhythm section.)

Other TV-movies, all pilots for proposed series, followed: Cover Girls, a 1977 Jayne Kennedy-Cornelia Sharpe escapade about high-fashion models doubling as international spies; The Courage and the Passion, a 1978 film about Air Force test pilots starring Vince Edwards; and 1979's The Billion Dollar Threat, with Dale Robinette as a globe-trotting superspy. His last assignments were the two-hour Emergency Room (1983) with Sarah Purcell and Gary Frank as hospital physicians, a decade before ER would make the milieu famous, and episodes of the Ralph Waite drama The Mississippi (1983-84).

Shores was glad to retire. "I've turned down things," he said in '91. "I got to the point where staying up 24, 48 hours at a stretch wasn't fun anymore." He spent the '80s and '90s writing concert music, some of which was performed and published.

Precious little of Shores' massive television output was ever released on records. Herschel Burke Gilbert led off his collection of Four Star program themes (Dick Powell Presents, Dot DLP 25421) with Shores' Richard Diamond theme, retitled "Nervous" – because, Shores said, Gilbert had called it "nervous jazz" – and Pete Rugolo later arranged the same music for his TV-theme collection (TV's Top Themes, Mercury SR 60706). Two themes from Shores' Girl From U.N.C.L.E. scores were rather faithfully adapted by Teddy Randazzo on the Girl From U.N.C.L.E. soundtrack (MGM SE-4410). More recently, Film Score Monthly's two Man From U.N.C.L.E. collections (FSM 5/18 and 6/17) contain nearly 38 minutes of Shores' work on that series.

Shores himself assembled 12 cues from his late 1960s TV scores into a privately released LP (Score!, West Shore Records ST 987) that effectively served as his "demo" when soliciting work.

"He was a very charming man. I really liked him," says Don Ray. "He was a superlative musician. Right now, thirty years later, I can hum you some of his tunes. The reason he didn't work more had nothing to do with the quality of his work; it had to do with the fact that he didn't promote himself. He made no effort to ingratiate himself, when everybody else was pushing hard. He was always courteous. I thought the world of him."

Adds woodwind player Bill Calkins: "Dick had a great sense of humor. He loved to laugh. It was a fun time for all of us."

Asked about his style, Shores conceded that "people tell me" that he had a very specific sound. "I guess I do, but I don't consciously try to create a certain sound. I try to fit the picture. You're not doing a concert, you're supposedly helping the picture. Some pictures Beethoven couldn't help, though," he added with a laugh. "Rhythm is my big thing, I think. Although I'm not a jazz composer, maybe that has had some influence.

"Dramatic writing never came easy to me. I loved it, but I think I worked too hard at it. I think I took it too seriously."

Shores' wife of 60 years, Margaret Hall Shores, died in November 2002. They had one daughter, Vicki, whose two sons were taught piano by their doting grandfather.

What Dick Shores may never have fully appreciated is the degree to which his music resonated with a generation. His music was a tremendous enhancement for many of the shows with which we grew up and which we remember so fondly today. More than three decades later, Shores' music is a nostalgic but still powerful draw – music that helped to define an entire era of American television.


© 2004 Jon Burlingame
Related Articles:
Richard Shores Remembered, Part I
Richard Shores Remembered, Part II
Richard Shores Remembered, Part III






Error: DISTINCT YEAR query failed