Print this article
CONCERT EVENT...


April 1, 2004

You're Darn Tootin'

Suite of Laurel and Hardy themes headlines upcoming community concert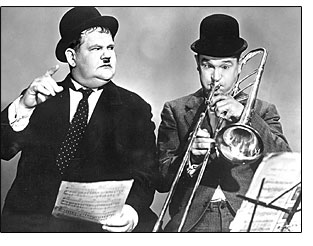 M
usic for the films of Stan Laurel and Oliver Hardy will be featured in a live concert April 1 in Culver City, California. This city-sponsored event will present music by Culver City's resident composers and musicians.

The Laurel & Hardy Suite, arranged by Warren M. Sherk from the original scores by Leroy Shield and T. Marvin Hatley, will have its premier performance at 7:00 p.m. that Thursday night at 9770 Culver Boulevard. Admission is free.

Sherk, an acknowledged expert in this arena of music for early sound comedy, chose 11 themes, including Hatley's famous signature for Stan Laurel and Oliver Hardy, "Dance of the Cuckoos"; "Good Old Days," the Shield cue that became best-known as the theme for Our Gang comedies; and Shield's "On to the Show," which also served as the opening number of many films produced by Hal Roach.

As Sherk points out in his program notes: "The music for these early sound films typically consisted of dance-band music, fox trots, ballads, waltzes, marches, novelty songs and stock themes ranging from 20 to 90 seconds in length and arranged for 12 to 15 players.

"These cues became part of the Roach stock music library, and their extensive use in comedies featuring Laurel & Hardy, The Little Rascals, Our Gang and Charley Chase has ensured their continuing popularity. Recent re-recordings of the music, reconstructed by the Beau Hunks, an Amsterdam-based ensemble, have also increased awareness of this formerly overlooked American film music."

Hatley (1905-1986) received three Academy Award nominations, two of them for Laurel & Hardy films: Way Out West (1937) and Block-Heads (1938). Shield (1893-1962) contributed much of the music heard in these films, beginning with Another Fine Mess (1930).

Sherk, whose Dance Variations will also be performed on the program, has an active career as an orchestrator for major motion pictures. He is also an archivist at the Academy of Motion Picture Arts & Sciences' Margaret Herrick Library and has catalogued the manuscript collections of such screen greats as Alex North, Jerry Goldsmith and Sammy Cahn.





Ceremony featured Best Song performances by Timberlake, Sting, Legend
Ellington, North, Goldsmith, Rorem, Schickele among top recordings
Composers Johannsson, Richter explain what happened
Composers Poledouris, Rose added to Hall of Fame