Print this article
FMS FEATURE ARTICLE...


April 9, 2004

USPS Celebrates Mancini

New postage stamp pays homage to acclaimed composer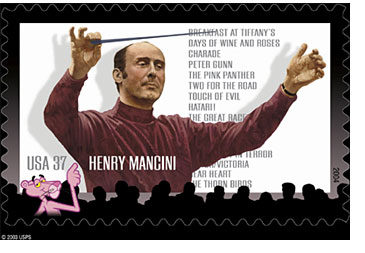 H
enry Mancini, composer of Peter Gunn, "Moon River" and The Pink Panther, will be honored with a U.S. postage stamp to be formally unveiled at 11 a.m. Tuesday, April 13, at the Music Center Plaza in downtown Los Angeles, California.

Former Sen. John Glenn will serve as host for the first-day-of-issue dedication ceremony, with flutist Sir James Galway and the USC Trojan Marching Band performing Mancini music for the event. Postmaster General John E. Potter will also attend, along with members of the Mancini family. According to the U.S. Postal Service, 80 million 37-cent stamps will be issued.

Mancini, who died in June 1994, won four Academy Awards and 20 Grammys during his 40 years as a composer for movies and television. This year would have marked his 80th birthday. He is the seventh major film composer to be honored with an American stamp. In 1999, Max Steiner, Erich Wolfgang Korngold, Alfred Newman, Bernard Herrmann, Franz Waxman and Dimitri Tiomkin were honored with 33-cent postage stamps.

At 7 p.m. that night, a benefit tribute concert will be held at nearby Walt Disney Concert Hall. Scheduled to perform are John Williams, Quincy Jones, Michael Feinstein, Sir James Galway, Stevie Wonder, Monica Mancini and Patrick Williams conducting the Henry Mancini Institute Alumni Orchestra. Sen. Glenn and Julie Andrews will host. Proceeds will benefit the Institute, which provides comprehensive professional training for top young musicians from around the country. Eighty-four such young men and women, mostly in their early 20s, participate each summer in Los Angeles.

Also for L.A. area film and music buffs, the UCLA Film and Television Archive has scheduled a week-long film festival devoted to the composer beginning April 30. "The Coolest Cat: The Film Music of Henry Mancini" will run 10 of his films, along with the first Pink Panther cartoon short and a 1964 Steve Allen Show that features Mancini performing. The schedule includes Darling Lili (April 30), Two for the Road and Days of Wine and Roses (May 1), Hatari (May 2), Touch of Evil and Experiment in Terror (May 5), Breakfast at Tiffany's and Charade (May 7), Victor/Victoria and The Pink Panther (May 8).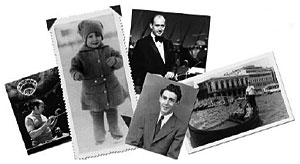 Earlier this week, MGM-UA released a six-DVD set of The Pink Panther, including five of the sequels, six cartoons and a behind-the-scenes documentary on the series that discusses Mancini's contributions. In May, Varese Sarabande is scheduled to release a two-CD set of music from Mancini's The Thorn Birds.

The Year of Mancini, as the 2004 Mancini initiative is called, features a number of other programs and events that are designed to promote music and arts education in schools. More details are at http://www.henrymancini.com.






Ceremony featured Best Song performances by Timberlake, Sting, Legend
Ellington, North, Goldsmith, Rorem, Schickele among top recordings
Composers Johannsson, Richter explain what happened
Composers Poledouris, Rose added to Hall of Fame