Print this article
FMS FEATURE ARTICLE...


April 16, 2004

A Tribute To Henry Mancini

Family, friends and colleagues pay homage at memorable musical gala

by Jon Burlingame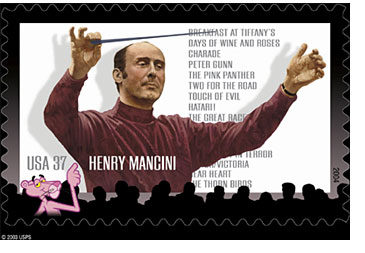 T
uesday, April 13, was a day to remember for Henry Mancini fans.

That morning, the U.S. Postal Service held a dedication ceremony for the new 37-cent stamp featuring the likeness of the composer of Peter Gunn, "Moon River" and The Pink Panther. And that evening, a stellar roster of musicians and singers performed many of Mancini's greatest hits at Los Angeles' finest concert venue, the new Walt Disney Concert Hall.

Approximately 1,500 people, including an estimated 750 L.A. schoolchildren, attended the stamp ceremony under sunny skies at the downtown Music Center. A giant replica of the first-class stamp was unveiled by the composer's widow, Ginny Mancini; former Sen. John Glenn, a friend of the composer; and Postmaster General John E. Potter.

Glenn, a former astronaut, quipped that "Scott Carpenter and I practically wore out a record of `Moon River'" during their Project Mercury days of the early 1960s at Cape Canaveral, Florida.

In honor of Mancini's love of martial music, the USC Trojan Marching Band performed Peter Gunn, The Great Race March and The Pink Panther. And, in recognition of Mancini's childhood background as a flute and piccolo player, Sir James Galway led an ensemble of 100 young flute players in the "Pie in the Face Polka," also from The Great Race.

The two-hour concert that night at Disney Hall was entitled "A Tribute to Henry Mancini." It was a benefit for the Henry Mancini Institute, which has become something of a summertime Mecca for talented young instrumentalists seeking to broaden their classical training to include jazz and more popular forms.

Julie Andrews and Sen. Glenn served as hosts. Andrews described her friend Hank as "a fun-loving, goofy guy who used to do birdcalls for my children and rarely ate pasta without leaving tomato stains on his white shirt." Glenn told the star-studded crowd of 1,800 about being on the slopes of Vail, Colorado, and overhearing a ski instructor tell the Oscar- and Grammy-winning composer that he needed to "get more rhythm."

John Williams, who once played piano in Mancini's Peter Gunn band, opened the evening by conducting the Mancini Institute Alumni Orchestra in Mancini's "Overture to a Pops Concert," written for the Boston Pops in the 1980s. Noted Williams: "All of his music had humility, humor and humanity, and that's why it connects with us so well."

The composer's daughter, the talented Monica Mancini, sang three numbers: a rhythmically charged "Charade," a tender "The Days of Wine and Roses" with its sophisticated Johnny Mercer lyric, and what she called "a love letter to my father," the Love Theme from The Molly Maguires with a new lyric by Will Jennings.

Pianist Mike Lang added his sensitive touch to a trio of Oscar-nominated Mancini love songs from Blake Edwards films ("Life in a Looking Glass" from That's Life!, "Crazy World" from Victor/Victoria, "It's Easy to Say" from 10). Mancini and Edwards did more than two dozen films together and the director (who is Andrews' husband) made a rare public appearance at the event.

Mancini's television work was generously acknowledged, too, as conductor Quincy Jones brought down the house with a rocking version of Peter Gunn (with Tom Scott on alto sax and bassist Abraham Laboriel dancing around the stage); Joey DeFrancesco soloed on Hammond B-3 organ in Mr. Lucky; and Patrick Williams, conductor for most of the program, led the orchestra in a nostalgic medley of elegant '80s TV themes (Hotel, Newhart, Remington Steele).

Singer Michael Feinstein gave an intimate reading of Mancini's own favorite, "his special song with Ginny," the theme from Two for the Road. Demonstrating the composer's versatility in different realms were his moody 1984 Piece for Jazz Bassoon and Orchestra, written for and played by Ray Pizzi; the country flavor of Oklahoma Crude, with fiddle soloist Richard Greene; and the sly humor of The Pink Panther with its original performer, tenor saxophonist Plas Johnson.

Impish Irishman Sir James Galway recounted his long friendship with Mancini as he played "Baby Elephant Walk" and "Pennywhistle Jig," both on pennywhistle, and was joined by his wife Jeanne in Mancini's arrangement for two flutes of "76 Trombones." The complex "Cameo for Flute," which Mancini wrote for Galway in 1984, was warmly played by young virtuoso Gregory Jefferson.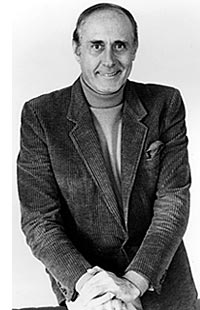 Peter Gunn drew one standing ovation; the second was when Mancini's Oscar-winning theme for Breakfast at Tiffany's, "Moon River," was performed by Stevie Wonder on harmonica and the vocal harmonies of Take 6.

Many of the retrospective film clips that were shown between numbers were priceless: Jack Lemmon becoming visibly emotional when recalling the first time he heard the theme from Days of Wine and Roses; clips from films featuring Mancini classics (including the "Inspector Clouseau" theme for Peter Sellers in a scene from The Pink Panther Strikes Again); and many bits of Mancini himself, talking about writing "Moon River" for Audrey Hepburn and the importance of music education for young people.

An estimated $1 million was raised for the Henry Mancini Institute at the concert. Today, April 16, would have been Henry Mancini's 80th birthday.






Ceremony featured Best Song performances by Timberlake, Sting, Legend
Ellington, North, Goldsmith, Rorem, Schickele among top recordings
Composers Johannsson, Richter explain what happened
Composers Poledouris, Rose added to Hall of Fame