Print this article
OBITUARY...


June 11, 2004

Marius Constant Dead at 79


French composer best known for Twilight Zone theme
by Jon Burlingame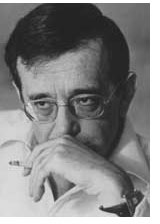 M
arius Constant, the Romanian-born, French-based composer whose theme for television's The Twilight Zone far outshadowed his concert music in the public mind, died May 15. He was 79.

The French newspaper Le Monde said he died in the Paris region of a brain disease.

Constant composed "Etrange No. 3," the now-familiar series of repeated four-note phrases on electric guitar, and "Milieu No. 2," the odd pattern of guitar notes, bongo drums, brass and flutes, that together became the Twilight Zone theme.

They were originally part of a series of offbeat, unusually orchestrated pieces that CBS music director Lud Gluskin had commissioned from the Paris composer in the late 1950s for the network's music library. They were recorded on one of Gluskin's annual trips to Europe to find and record music for CBS television shows.

Rod Serling's The Twilight Zone debuted in 1959 with a moody theme by film composer Bernard Herrmann. But, as the second season rolled around and the producers redesigned the main-title visuals, new music was sought.

Virtually all of the Constant music in the CBS library consisted of brief fragments, some no longer than five seconds. And as a rule it was not especially useful, longtime CBS music supervisor Don B. Ray recalled for the book TV's Biggest Hits. Its weird guitars, odd saxophone figures, and unusual brass and percussion stings were too unsettling for traditional dramatic underscore needs.

But Gluskin, searching for something out of the mainstream, settled on the two Constant pieces for the Zone main and end titles for the fall 1960 season. Over time, the repeated four-note signature has become universally known musical parlance for "something strange is happening."

Constant sold all rights to his music to CBS. He was not even aware, at first, that his music had become a famous American TV theme. He never received screen credit for his work, and never wrote another piece for U.S. television.

In European musical circles, however, Constant was considered part of the avant-garde of the '60s and '70s, writing serial and aleatoric music, musique concrete, improvisational pieces, jazz-oriented works and multimedia presentations.

He was born Feb. 7, 1925, in Bucharest, and traveled to Paris in the mid-1940s, where he studied composition with Nadia Boulanger, Olivier Messiaen and Arthur Honegger, and conducting with Jean Fournet.

His first significant symphonic work, 24 Preludes for Orchestra, was premiered by Leonard Bernstein and the French National Orchestra in 1959. He wrote a series of ballets, including Cyrano de Bergerac (1960), Paradise Lost (1967, which Rudolf Nureyev danced in London) and Candide (1970, with mime Marcel Marceau in Hamburg, Germany).

Constant was the founder and music director of Ars Nova, a Paris-based ensemble for new music, from 1963 to 1971.

The obituary in Le Monde made no mention of survivors — or of the Twilight Zone theme.







Error: DISTINCT YEAR query failed