Print this article
FEATURE ARTICLE...


June 18, 2004

The Film Music of Dimitri Tiomkin

Limited edition made available to FMS members only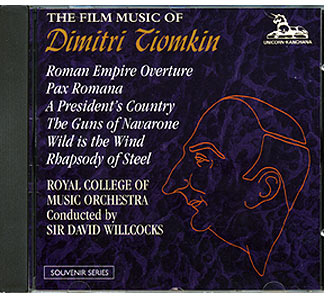 I
n homage to distinguished composer Dimitri Tiomkin (1900-1979), London-based writer, arranger and longtime Tiomkin champion Christopher Palmer produced an extraordinary collection of Tiomkin's music for the Unicorn Records label.

Digitally recorded and originally released on LP in 1985, this 1988 CD re-release of The Film Music of Dimitri Tiomkin has become a favorite of many collectors for its fine performances and surprising mix of Tiomkin obscurities and standards.

Sir David Willcocks conducted the Royal College of Music Orchestra in excerpts from The Fall of the Roman Empire (1964), The Guns of Navarone (1961), Wild is the Wind (1958), the industrial animated film Rhapsody of Steel (1959) and a forgotten documentary titled A President's Country (1966) that incorporates several classic western themes (Red River, Duel in the Sun, Giant, Rawhide, High Noon and The Alamo). Organist David King is featured in the Roman Empire selections.

This Unicorn/Kanchana CD is now hard to find. Through the generosity of Olivia Tiomkin Douglas, The Film Music Society is offering a limited quantity of these discs to members only, for the price of $20 plus s/h.

Please visit the FMS Merchandise page for contact information.

Tracks (approximately 56.5 min.):

"Roman Empire Overture" from The Fall of the Roman Empire (1964) [3:40]
"Pax Romana" from The Fall of the Roman Empire (1964) [6:22]
A President's Country (1966) – excerpts from Red River, Duel in the Sun, Giant, Rawhide, High Noon and The Alamo [10:43]
The Guns of Navarone (1961) – excerpts include Prologue, Prelude (aka "Legends of Navarone"), and Epilogue (aka "Mission Accomplished") [10:33]
Wild is the Wind (1958) (theme) [2:52]
Rhapsody of Steel (1959) (suite) [22:16]




Ceremony featured Best Song performances by Timberlake, Sting, Legend
Ellington, North, Goldsmith, Rorem, Schickele among top recordings
Composers Johannsson, Richter explain what happened
Composers Poledouris, Rose added to Hall of Fame