Print this article
FMS FEATURE ARTICLE...


July 26, 2004

Goldsmith Remembered by Family, Friends

Mourners gather to say farewell to legendary composer
by Jon Burlingame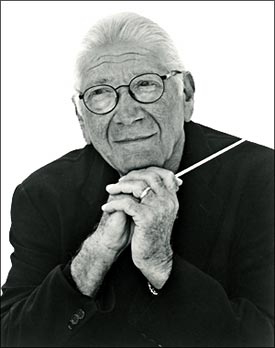 A
pproximately 400 people attended funeral services for composer Jerry Goldsmith Friday afternoon, July 23, at Hillside Memorial Park in Culver City, California.

Goldsmith, who died Wednesday night at the age of 75, was eulogized not only as an innovative composer for movies and television but also as a beloved husband, father and friend.

The 55-minute service, attended by some of Hollywood's most well-known composers and musicians, was dignified and moving. While none of Goldsmith's own music was played during the service, renowned cantor Nathan Lam performed Michael Isaacson's "Shiviti" and, after the service, a recording of Charles Fox's "Vihi Noam" was heard.

Rabbi Eli Herscher of L.A.'s Stephen S. Wise Temple began by quoting a line from Chaim Potok's The Chosen that dealt with the life of a creative artist: "A life filled with meaning is worthy of rest."

Goldsmith's music, he said, "inspired and uplifted us," his many movie scores taking listeners "from the depths of fear to the heights of awe-inspiring courage."

Speaking of an incident a few years ago in London, Rabbi Herscher noted that at the conclusion of a concert, Goldsmith motioned for the London Symphony Orchestra to rise and accept the audience's applause. The musicians remained seated, a gesture that indicated their respect for the maestro, encouraging him to personally accept the audience's approval.

"Today," he said, "we are the ones to applaud. He has enriched and ennobled all of us."

Goldsmith's music editor Kenneth Hall took the podium to cite the composer's "immense" legacy and his personal loyalty to many colleagues. He recalled a story about the legendary Bernard Herrmann stopping by the Universal scoring stage to listen to Goldsmith record a cue for Lonely Are the Brave and, having heard it, told Goldsmith the music was "too damned good for the picture."

"His music was always too damned good for it," Hall said. "It, and he, will live on forever."

Actor Ronnie Schell, a longtime friend of the composer, choked back tears as he called Goldsmith "the brother I never had" and "one of the wittiest men I've ever known." The closeness of their 10-year relationship was underscored by the fact that they spoke every day, no matter where in the world each was.

Carrie and Joel Goldsmith spoke endearingly of their father, including anecdotes about his younger years, from gopher-hunting on a family-owned Corona ranch to hunting quail on his beloved Catalina Island. They were always amused that, said Carrie, "he actually looked forward to driving in Rome," which brought a laugh from the crowd. She added: "He taught all of us how to live life to the fullest."

Rabbi Herscher noted that Friday would have been Jerry and Carol Goldsmith's 32nd wedding anniversary. All spoke of Carol's devotion to her husband, particularly during the past three years as he battled cancer.

Many in the audience walked the 200 yards to the interment site, where the Kaddish (the traditional Jewish mourners' prayer) was recited and the composer was laid to rest.

Among the composers in attendance were Lalo Schifrin, Charles Fox, Alexander Courage, Ian Fraser, David Newman, Cliff Eidelman, James Newton Howard, Brian Tyler, Mark McKenzie, Robert Drasnin, William Ross, Don Ray, Michael Isaacson and Dan Foliart. Alex North's widow Anne Marie North attended, as did conductor John Mauceri and lyricist Paul Williams.

Filmmakers present included directors Joe Dante, Michael Crichton and Richard Donner, and producers Mace Neufeld and Andrew Vajna. Franklin Schaffner's widow Jean also attended, along with the spouses of some too ill to attend (Mrs. Robert Wise, Mrs. Leonard Rosenman) and many musicians who were Goldsmith-orchestra regulars including keyboardist Mike Lang and trumpeter Rick Baptist.






Ceremony featured Best Song performances by Timberlake, Sting, Legend
Ellington, North, Goldsmith, Rorem, Schickele among top recordings
Composers Johannsson, Richter explain what happened
Composers Poledouris, Rose added to Hall of Fame