Print this article
FMS FEATURE ARTICLE...


August 2, 2004


Jerry Goldsmith: An Appreciation

by Jon Burlingame
H
e was probably the most respected working composer in Hollywood.

Jerry Goldsmith, who died July 21 at the age of 75, was very much a man of his time. He started at the bottom (typing scripts at CBS until he got a chance to write music for radio) and built a career that had no real precedent.

He toiled in television for years, slowly amassing low-budget film credits until Alfred Newman recommended him for an A-list film project. After Lonely Are the Brave (1962), he never looked back, and for the next four decades he gave us some of the greatest film music ever written.

Chinatown. The Sand Pebbles. Planet of the Apes. Patton. Star Trek: The Motion Picture. Basic Instinct. The Wind and the Lion. Alien. A Patch of Blue. The list – more than 170 films, over a dozen TV themes, another 20 or so TV-movies and miniseries – is not only long, it's studded with genuine classics.

Even in the last few years, Goldsmith continued to write memorable music for popcorn movies like Air Force One and The Mummy (even when the films themselves weren't that memorable).

In fact, it was for a popcorn movie that Goldsmith won his only Academy Award: The Omen (1976), a story about the Antichrist as a demonic little boy. Goldsmith saw an opportunity to ratchet up the tension and suspense with a choral-and-orchestral score that utilized Latin lyrics to suggest a twisted Black Mass. It worked. And despite the fact that the two subsequent Omen movies were disappointing, Goldsmith delivered stunning scores that expanded on the original material and made the sequels seem better than they were.

He received 17 other Oscar nominations, beginning with the cerebral music for Freud (1962) and continuing up through the romantic thriller Basic Instinct (1992), the dark intensity of L.A. Confidential (1997) and the colorful score for Disney's Mulan (1998).

And he won five Emmys for his TV music, including two for landmark miniseries: the remarkable Holocaust-themed QB VII (1974) and the thrilling, Hebraic-melody-based Masada (1981).

Speaking abut Goldsmith five years ago, Charles Bernstein, governor of the music branch of the Academy of Motion Picture Arts & Sciences, put it this way: "Jerry has been consistently creative, original, and on-target, year after year, picture after picture. Jerry's a musician's musician. He does things beyond what is necessary to simply serve the dramatic function. There is a level of musicality that musicians recognize and appreciate with Jerry that sets him apart."

The day after Goldsmith's passing, Robert Wise – director of The Sand Pebbles and Star Trek: The Motion Picture, two of Goldsmith's Oscar-nominated scores – said: "He was a tremendous talent. We would kick around ideas, and he was just great, very bright, very accomodating. He was an absolutely outstanding composer."

Goldsmith liked to tell the story of how he got hooked on movies, and movie music: "I remember when I was around 14 or 15, I saw Spellbound. I came out of the theater in love with Ingrid Bergman and in love with the score that Miklos Rozsa had written. At that point I made up my mind to do two things: marry Ingrid Bergman and write music for motion pictures."

He would laugh and say that he managed to achieve one out of two life goals.

He also loved to talk about working in live television in the 1950s (on Climax!, Studio One in Hollywood and Playhouse 90). It was a true baptism of fire. Every week he wrote a full score for a chamber-sized ensemble (often just three musicians plus himself playing keyboards) and conducted it during the show's live, coast-to-coast broadcast, improvising changes on the spot as necessitated by shifts in pacing or alternate line readings from earlier rehearsals.

"From a technical point of view, you never knew what was going to happen," Goldsmith said, adding that with the death of live TV around 1960, the excitement and adrenaline rush disappeared. "There was something about counting off and going on the air live to a zillion people. I never experienced that energy again," he said.

Although he scored his first feature in 1957 (the forgotten George Montgomery western Black Patch), his main job remained in TV through the early 1960s. As live TV was gradually replaced by filmed TV, he scored such classic series as Twilight Zone and Thriller, and penned the themes for such fondly remembered shows as Dr. Kildare, The Man from U.N.C.L.E. and The Waltons.

His groundbreaking, avant-garde film score for Planet of the Apes (1968) – an impressionistic, otherworldly soundscape created entirely without electronics – solidified his reputation as a master of his profession. (And it became one of his many films in which offbeat instruments were used to create strange sounds. Goldsmith's longtime orchestrator Arthur Morton, hearing a weird noise outside the scoring stage, used to say, "Find out who that guy is and bring him in here. We can use that in Jerry's next picture.")

Apes was the second of his seven films with director Franklin J. Schaffner. It was nominated for a Best Original Score Oscar, as were Schaffner's Patton (1970), Papillon (1973) and The Boys From Brazil (1978).

"Frank and I had a very special relationship," Goldsmith said a few years ago. "It was so succinct, it was almost laconic. We would discuss not very much of anything. We'd have lunch and talk about anything except the movie, and then finally it would be like one sentence, what he wanted me to do or what he expected in the music. And that would be it until [we saw each other on] the scoring stage."

After Schaffner, Goldsmith forged strong relationships with other directors, such as Paul Verhoeven (Total Recall, Basic Instinct), Fred Schepisi (The Russia House) and David Anspaugh (Hoosiers, Rudy).

One of those was Joe Dante, who made nine films with Goldsmith (including Gremlins, a segment of Twilight Zone: The Movie and the composer's final score, last year's Looney Tunes: Back in Action). The day after Goldsmith's death, he said: "I don't know if I've worked with any geniuses in this business, but if I have, it would be Jerry. The scope and breadth of what Jerry achieved in his career is just phenomenal. He was the luckiest find I ever made in movies. He was just so brilliant."

Ask producer Robert Evans about Chinatown, and he will tell you that Goldsmith's music – written in 10 days as a replacement for another score that wasn't working – "saved the picture." Scored for an unusual ensemble of four pianos, four harps, strings, two percussionists and trumpet, it's now a classic of the genre.

Then there were the westerns like Rio Conchos (1964), Hour of the Gun (1967) and Wild Rovers (1971); the complexity and dissonance of Alien (1979); the heroics of Star Trek (1979, plus four of the sequels); the ferocious action music of three Rambo movies (1982, 1985, 1988); the pastoral Americana of The Flim-Flam Man (1967) and The Red Pony (1973); visions of the distant past (The 13th Warrior, 1999) and the far future (Logan's Run, 1976); and the surprising ethnic sounds of such exotic-locale movies as The Chairman (1969, the Far East), Under Fire (1983, Latin America) and Congo (1995, African rhythms). He was perhaps the most versatile composer of his time, able to conjure up entire worlds with a thoughtful, astute use of music.

Still, Goldsmith often said he preferred small, intimate dramas, like A Patch of Blue (1965), Islands in the Stream (1977) or Rudy (1993). They offered a glimpse into the emotional side of Jerry Goldsmith, one that we often didn't hear amid all the sturm und drang of the action or sci-fi movies.

The maestro was always reluctant to discuss precisely how he came up with his imaginative sounds. "It just happens," he said. "To describe how one writes music is impossible. I can't intellectually tell you how it gets from the head and the heart, through my arm, down to my hand and onto the paper."

He never tired of the grind. "Some mornings I wake up and the thought of going to work is appalling," he said. "But then I sit down at the piano and all of a sudden I get an idea. I'm off and running." And he explained why he continued: "There are very few composers who can sit down and write an hour of music and hear it played and recorded the next day, under the best technical conditions, with some of the greatest musicians in the world."

Author and filmmaker Michael Crichton (Coma, The Great Train Robbery) reminisced about the composer: "For a person of such talent, and of such prominence for such a long time, he was an extraordinarily good guy. He was a good husband, a good father, a good friend, and a good collaborator.... He always struck me as a little bit like Picasso in the sense that [ideas] just constantly flowed out of him – TV scores and movie scores and fanfares, an unstoppable stream. I think, in a way, he was at the mercy of it. He wasn't avoiding his life; he was honoring his gift."

In the days following his death, the composer was eulogized on the floor of the U.S. House of Representatives by Rep. Mark Udall (D-Colo.): "He leaves behind a distinguished repertoire of outstanding and memorable film scores and television themes that are as recognizable as they are innovative." Rep. Udall cited "his versatility and genius" and called him "a national treasure."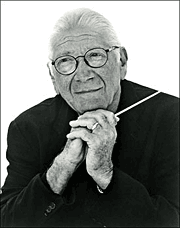 By any measure, the loss of Jerry Goldsmith is incalculable. He influenced every composer who worked in Hollywood from 1960 on. Henry Mancini once said, "He has instilled two things in his colleagues in this town. One is, he keeps us honest, and the other one is, he scares the hell out of us." Last week, John Williams told Entertainment Weekly that he admired Goldsmith's "freshness" and "chameleon adaptability."

We can lament the fact that Goldsmith didn't live longer. Or that he didn't win the four or five Oscars that he truly deserved (for, say, Planet of the Apes, Patton, Chinatown, Papillon or Star Trek: The Motion Picture). But we can take heart in the music, which he wrote with such passion; and the memories, which those of us who grew up with his astounding body of work will always cherish.


© 2004 Jon Burlingame





Error: DISTINCT YEAR query failed