Print this article
RECENT EVENT...


December 17, 2004

Korngold Centre Opens in Czech Republic

Brno celebrates legendary composer as its native son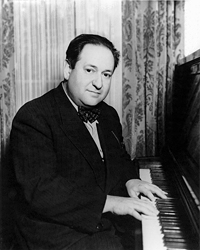 E
rich Wolfgang Korngold, the Oscar-winning composer of such Hollywood film classics as The Adventures of Robin Hood, The Sea Hawk and Captain Blood, has been honored in the city of his birth.

The Korngold Study Centre and Museum opened to the public last week in the Czech Republic city of Brno, the result of efforts by the United Kingdom-based International Korngold Society and Foundation, founded in 1983.

Opening ceremonies were held on Monday, December 6, attended by guests from the U.S., England, Austria, Germany and the Czech Republic. A concert of Korngold's lieder, opera and chamber works featured prominent Czech artists including Frantisek Novotny, Regina Renzova, Igor Adresev and Vladimir Holly.

Said Korngold biographer Brendan Carroll: "I am so thrilled that Korngold has finally `come home' to the city of Brno, a city he always loved and to which he was extremely grateful. It was the place where his roots were, and from where so many important figures in his life came – Maria Jeritza, Leo Slezak and Hans Mueller to name but a few.

"As the Vienna State Opera presents his greatest success, Die Tote Stadt – once more, in totally sold out performances – how appropriate that close by, here in Brno, the first Korngold Centre has opened. I urge all those who love the man and his music to come here and see not only where it all began, but to use this centre and share his legacy."

Carroll, as president of the Korngold Society and Foundation, along with its co-founder Dr. Konrad Hopkins, decided in 2003 to donate its entire archive of materials relating to the composer, together with a significant financial contribution over the coming years, in order to found the study centre and museum in Brno.

Brno was chosen not only because of its close connections with Korngold and his family, but also because it has mounted festivals and events in recent years to honor his memory – including the placing of a plaque on the house where he was born (and still stands on Koliste Street) in May 2002.

The donation of the rare and extremely valuable materials – including letters, scores, articles, reviews, magazines, recordings, films, posters, programs, books, photographs and literally thousands of other ephemeral itemsiwill be the focal point of a permanent exhibition in the city. They will be of particular benefit to young Czech music students.

The Centre is house in the newly restored House of the Lords of Kunstat in Dominikanska Nam, Number 9, and is open Monday through Friday from 9 a.m. to 5 p.m. Facilities include state-of-the-art equipment for listening to recordings and viewing films, together with computer terminals for research and even a Steinway grand piano for use during score perusal by musicians and students.

The country's Ministry of Culture recognized this initiative with a grant of 2.5 million CZK (approximately $100,000), which is being managed under the auspices of the Moravian Museum.

The Korngold Foundation is also involved with plans to award a research scholarship in the composer's name, and a Korngold Prize for composition and/or performance studies to young students. Carroll is expected to participate via teaching and lectures.

Future projects will include the translation of Carroll's book, The Last Prodigy, into Czech; the development of a web portal for the Korngold Centre; the erection of a statue to Korngold; and musical events to coincide with the 50th anniversary of the composer's death in 2007. The Czech Postal Authority is expected to issue a commemorative stamp that year.

The inaugural exhibition of Korngold materials and memorabilia is currently on display in the Marble Hall of Bishops Courtyard in Brno and will transfer to the Korngold Centre as a permanent attraction in April 2005.





Ceremony featured Best Song performances by Timberlake, Sting, Legend
Ellington, North, Goldsmith, Rorem, Schickele among top recordings
Composers Johannsson, Richter explain what happened
Composers Poledouris, Rose added to Hall of Fame