Print this article
FMS FEATURE ARTICLE...


December 29, 2004

Book Review

Case History of a Film Score
Premier publication of Mancini's personal account about scoring The Thorn Birds
by Jon Burlingame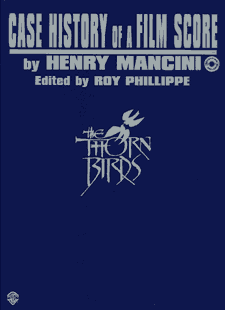 E
leven years after Henry Mancini's death, a new book under his byline has been published. Case History of a Film Score: The Thorn Birds, edited by Roy Phillippe, is a chronicle of the composer's nearly year-long odyssey with the music of one of television's greatest miniseries.

The Thorn Birds, which aired on ABC March 27-30, 1983, was producer David L. Wolper's lavish adaptation of Colleen McCullough's best-selling novel. A riveting 10 hours over four nights, it was a triumph for actors Richard Chamberlain and Rachel Ward as the Catholic priest and the Australian farmgirl who becomes the love of his life.

It received 16 Emmy nominations, including Outstanding Limited Series, seven acting nominations and nods for direction, cinematography, art direction, costume design, makeup, film editing (two) – and music. It ultimately won six (for actors Barbara Stanwyck, Richard Kiley and Jean Simmons, plus art direction, editing and makeup).

It should have won four or five more, including the top prize and one for Mancini's music. It is a black mark on the Academy of Television Arts & Science's music branch that Mancini – nominated only twice, for Peter Gunn and The Thorn Birds – never won an Emmy. I love the music of Billy Goldenberg, but his win that year for the now-forgotten potboiler Rage of Angels was not only his fourth, it cost Mancini his only real shot at an Emmy (I might add that Bruce Broughton's stirring Americana score for The Blue and the Gray was among the other worthy competitors that season).

Mancini wrote his first book, Sounds and Scores, "a practical guide to professional orchestration," in 1962. (It was a Bible for many dance-band arrangers and film composers in the '60s and '70s, and arrangers say that its lessons are still valid today.) And his candid and thoroughly readable autobiography, Did They Mention the Music? (co-written by jazz writer Gene Lees), was published in 1989.

But as editor Roy Phillippe relates in his introduction, Mancini wrote another book in the mid-1980s, one that was designed to follow a composer's job on a film from beginning to end. Mancini chose The Thorn Birds, and like Sounds and Scores, it was intended to be accompanied by musical examples and a recording. Unfortunately, the publisher ultimately passed on the project and it was forgotten – except by Phillippe, a Los Angeles-based arranger and composer and major Mancini fan.

In the late '90s, Phillippe picked up the proverbial baton and ran with it. With the help of Mancini's widow Ginny, the manuscript was unearthed, along with supporting documentation (music examples, timing sheets). Warner Bros. provided help and supplied not only the recordings but also Jack Hayes' orchestrations of Mancini's original sketches.

The result is a one-of-a-kind book that describes, in the composer's own words, his experiences on a massive four-hour score for a 10-hour film: specific ideas on the approach to themes and their development, source music, the role of the music editor and orchestrator, choosing an orchestra, attending to the details of recording, dubbing and even when to keep one's mouth shut when in the same room with producers and studio executives.

In short, writes Mancini: "This book is a step-by-step account of my work on The Thorn Birds. It deals with the real problems and the real people one encounters in this profession."

Mancini details his involvement from April 1982, long before shooting was to begin, through the final recording and dubbing in March 1983. (It turns out that he actually visited the set during production, something most composers never do.) He discusses the creation of the "Thorn Birds" theme and "Meggie's Theme," the two primary themes of the score, and several minor motifs: themes for Mary Carson (Stanwyck), Paddy and Fiona (Kiley, Simmons), and Luke and Meggie (Bryan Brown, Ward), along with setpieces like "Arrival at the Vatican."

Along the way there are any number of candid, telling notes about the process. (Example: "The two main areas that differ between composing for television versus theatricals are time and money. Television comes up short in both.") Ultimately, Mancini reports, he was able to schedule 25 recording sessions between November 30, 1982 and March 15, 1983, with as many as 51 musicians on the most important dates.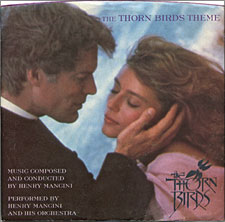 The rare 45 rpm picture sleeve for Mancini's theme, the only official soundtrack release prior to this year's CDs.

Mancini's original sketches for several key cues are reproduced, as are the music editor's "spotting notes" on the first episode and timing notes on the 16 specific cues chosen for discussion. Most significantly, Phillippe has condensed each cue into four to nine lines of score, with timings carefully noted along the way, so that even a non-musician can follow along with the music on the accompanying CD. For musicians – and especially aspiring composers – it's a gift to have Mancini's own thoughts to accompany the music itself. For film-music fans, it's a window into the world that they probably don't know, and should.

One of the fun aspects of the 16-track, 40-minute CD is the fact that each track is "slated" by music editor Jay Smith, announcing the number of the cue and the take ("Thorn Birds 1, M-7, Take 4").

The CD does not appear to be the fabled original album mockup that Mancini is said to have prepared for Warner Bros., and that was never released. (It was still a sore subject for the composer, nearly a decade after the miniseries aired. "We had it ready to go," he said in 1992. "I had it all figured out on paper. They could have had a catalog item, but Warner Bros. Records wasn't interested.") Although most of the key themes and setpieces are included, one surprising omission is "It's Shearing You're Hearing," which served as the rousing finale of Mancini's 11-minute concert suite of Thorn Birds music and which certainly would have been on the never-to-be "original soundtrack" LP.

The book and CD are especially rewarding for Thorn Birds fans who spent $25 on Varese Sarabande's recent 2-CD soundtrack only to discover that the dulcimer – the central instrument of the score – was inexplicably missing from the main-title track and that the extensive liner notes barely discuss the score (and don't include a single quote from the composer about his music, despite the fact that a little research would have turned up three extensive interviews that Mancini gave about the music of The Thorn Birds).

Both of these omissions are rectified by the book and accompanying CD. The main title is intact, complete with dulcimer overlay, and Mancini's discussion of the project is so thorough that all of our questions about this remarkable score are answered at last.

Amid the proliferating (and mostly useless) books about movie music, Case History of a Film Score: The Thorn Birds stands out. Written by a master of the field, filled with insight as well as practical advice, it will be enjoyed by anyone with more than a passing interest in film music.


Case History of a Film Score: The Thorn Birds. By Henry Mancini, edited by Roy Phillippe. Warner Bros. Publications/Miami; 130 pp., with CD, B/W Illustrations, Photographs. ISBN 0-7579-2266-X (softcover, $42.95)




Ceremony featured Best Song performances by Timberlake, Sting, Legend
Ellington, North, Goldsmith, Rorem, Schickele among top recordings
Composers Johannsson, Richter explain what happened
Composers Poledouris, Rose added to Hall of Fame