Print this article
FMS FEATURE...

February 28, 2005

Muzyka do Filmu...Música de Cine...

Oscar's Score and Song nods exemplify film music as the international language
by Jon Burlingame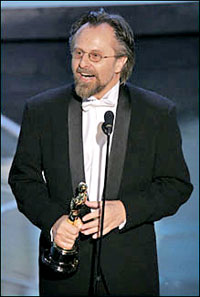 Jan A.P. Kaczmarek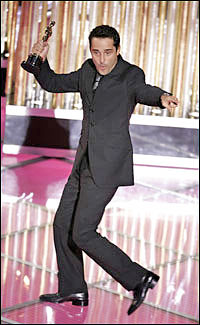 Jorge Drexler
Photo © 2005 Variety

The 77th annual Academy Awards took on an international flavor with awards in the music categories to Polish composer Jan A.P. Kaczmarek for the original score of Finding Neverland, and Uruguayan-born, Spain-based Jorge Drexler for the song "Al Otro Lado del Rio" from The Motorcycle Diaries.

Accepting the Oscar from presenter John Travolta, Kaczmarek said, "Finding Neverland was a great adventure, and I'm so proud to be a part of it." He thanked director Marc Forster and producer Richard Gladstein, "a man who truly understands the power of music." Kaczmarek also noted that he was "the first person in the room to thank Harvey Weinstein," the Miramax chief who supported the film about writer J.M. Barrie and the boys who inspired his Peter Pan.

He also thanked "the musicians, usually forgotten, but extraordinary people who make music live and, without them, the best music just doesn't exist." He acknowledged his wife Elzbieta ("She is responsible for many good notes I have written," a line that drew laughter from the audience) along with "my collaborators in Poland and here in America," music editor Christopher Kennedy, engineer Rafal Paczkowski and pianist Leszek Modzer.

All four of Kaczmarek's fellow nominees were present, including John Williams (Harry Potter and the Prisoner of Azkaban), James Newton Howard (The Village), John Debney (The Passion of the Christ) and Thomas Newman (Lemony Snicket's A Series of Unfortunate Events).

All five composers were also on hand for Saturday night's pre-Oscar reception given by the Society of Composers & Lyricists in Beverly Hills. Insiders were already buzzing about Kaczmarek's probable win because, as one agent pointed out, "Finding Neverland is the only movie in the category that everybody liked."

Singer-songwriter Drexler's win for the low-key ballad from The Motorcycle Diaries was a surprise to most observers, but an especially satisfying one in that Drexler, though not asked to perform his song on the telecast, did so a cappella when he took the microphone to accept from presenter Prince. He sang the first two stanzas, added simply "thank you, gracias, ciao," and left the stage, Oscar held high.

"Al Otro Lado del Rio" ("The Other Side of the River") was the first Spanish-language song to receive an Oscar nomination, and the first foreign-language song to win since "Never on Sunday" in 1960. Asked backstage why he chose to sing his acceptance speech, Drexler said simply, "I really wanted to sing my song."

Producer Gil Cates' failure to ask Drexler to perform was reminiscent of such past Oscar-show blunders as having Connie Stevens do Paul McCartney's "Live and Let Die" (on the 1974 show) and Ann Reinking to sing Phil Collins' "Against All Odds" (1985). Actor Antonio Banderas sang "Al Otro Lado del Rio" with inappropriate, grating electric-guitar accompaniment by Carlos Santana. To his credit, Banderas seemed visibly pleased as Drexler finally got his chance onstage.

Compounding the musical felonies, Cates – in an obvious and probably fruitless attempt to milk extra ratings points for ABC – asked pop star Beyoncé to sing three of the five nominated songs. She ruined "Vois sur ton Chemin" ("Look to Your Path"), the charming French choral piece from Les Choristes, and the American Boyschoir backing her was so muted they might as well have stayed home.

She destroyed the tender ballad "Learn to Be Lonely" (from The Phantom of the Opera) by belting it out at the Kodak Theatre to, we're sure, the chagrin of composer Andrew Lloyd Webber, who was accompanying her at the piano (Minnie Driver sang the original). And Josh Groban, for whom Alan Silvestri and Glen Ballard wrote "Believe" (from The Polar Express) was forced to share the song as a duet with the over-the-top diva.

Oscar did, however, pay tribute to three giants of film music who died last year. Footage of David Raksin, Elmer Bernstein and Jerry Goldsmith was featured in the "in memoriam" segment, and four of their most memorable compositions for film (Laura, The Magnificent Seven, Star Trek: The Motion Picture, and Chinatown, respectively) were performed by conductor Bill Conti and the Oscar orchestra during commercial breaks.

Introducing the segment as "a requiem for movie memory-makers who left us last year" – which featured cellist Yo Yo Ma performing Bach – actress Annette Bening said: "From the first piano player who pounded out bars of Rossini's William Tell Overture during a chase sequence in a silent movie house, music has been film's handmaiden. Music provokes laughter, encourages tears, awes and frightens, and comforts us. Our musicians evoke the exciting promise of an overture, the pageantry of a parade, and the solemn dirge of a farewell."

Goldsmith's "Fanfare for Oscar" – composed in 1998 to herald the annual proceedings – was disappointingly relegated to a twenty-second excerpt during the introduction of Academy of Motion Picture Arts and Sciences President Frank Pierson. Conti's new Oscar theme, heard throughout the evening, featured a Copland-esque opening fanfare and an odd, tribal-percussion beat.

Another unfortunate Oscar misstep was the axing of a number that Robin Williams had hoped to sing as part of his presentation of the Animated Feature Oscar. To lampoon conservative critic James Dobson's recent suggestion that SpongeBob SquarePants was gay, Williams asked Tony-winning, Oscar-nominated composer Marc Shaiman and partner Scott Wittman to pen what The New York Times called "a mock expose of the dark underbelly of cartoonland."

The lyrics included: "Pinocchio's had his nose done, Sleeping Beauty is popping pills, The Three Little Pigs ain't kosher, Betty Boop works Beverly Hills!" And, later: "Fred Flintstone is dyslexic, Jessica Rabbit is really a man, Olive Oyl is really anorexic and Casper is in the Ku Klux Klan!"

ABC's Broadcast Standards executives reportedly objected to the "sexual tone" of some lines (such as "Josie and the Pussycats dance on laps"), drug references ("The Road Runner's hooked on speed") and potentially offensive material about Native Americans ("Pocahontas is addicted to craps"). When the network wanted as much as a third of the song rewritten, Shaiman and Wittman gave up. Williams incorporated some of the material in his remarks.


©2005 Jon Burlingame