Print this article
FMS EXCLUSIVE...


May 5, 2005

Boldly Gone: The Final Star Trek Score

McCarthy recording session exciting, emotional
by Jon Burlingame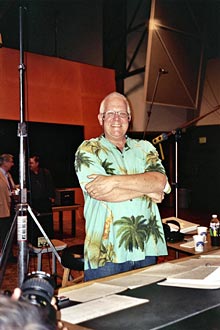 Composer Dennis McCarthy on
Stage M.

Nearly eighteen years ago, on August 31 and September 1, 1987, composer Dennis McCarthy recorded his original score for "Encounter at Farpoint," the very first episode of Star Trek: The Next Generation.

Last Friday, on April 29, 2005, McCarthy recorded the final score of the Star Trek franchise, "These Are the Voyages..." for Star Trek: Enterprise.

It was his 255th original score for Trek, including music for TNG, Deep Space Nine, Voyager, Enterprise and the 1994 feature film Star Trek: Generations.

The session at Paramount's legendary Stage M marked the end of an era for Star Trek – and for McCarthy, who more than any other single composer has musically chronicled the exploits of Picard and Riker, Sisko and Kira, Janeway and Chakotay, Archer and T'Pol.

"I hate to see it end," said McCarthy moments before the 2 p.m. downbeat. "It's been fantastic. I just wish it could have gone on forever.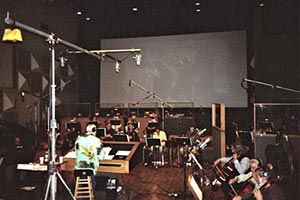 McCarthy conducts the Star Trek orchestra for the
last time.


"In a sense, Star Trek – I consider all the shows to be just one arc, with different faces – defined me musically. I've been listening to all of the stuff I've done, and I can honestly say that this is the show that came the closest to what I've wanted to do."

The Star Trek series were among the few weekly shows left in American television to consistently use an orchestra, and McCarthy's deft handling of the music was a significant but underrated factor in providing pace, excitement and emotional content on all four series.

Nine of Star Trek's 16 Emmy nominations in the music categories have been for McCarthy scores, and he is the only Trek composer to have won twice: for the "Unification" score in TNG's 1991-92 season, and for the main title theme of DS9 in 1992-93.

McCarthy's other nominations were for:
"The Child," TNG, 1988-89
"Yesterday's Enterprise," TNG, 1989-90
"Half a Life," TNG, 1990-91
"All Good Things," TNG, 1993-94
"Heroes and Demons," Voyager, 1994-95
"Workforce," Voyager, 2000-01
"The Expanse," Enterprise, 2002-03
McCarthy praised the producers for their "flat-out loyalty" over the years, and spoke warmly of the "total freedom" he was given from the beginning of the series in 1987. Even when the producers "hated" a specific score, he said, they discussed it but he was never fired -- as happens so often in both TV and features these days.

Asked for favorite moments in the series, he cited "Yesterday's Enterprise" in the third season of TNG, and the alternate-universe shows this year on Enterprise ("it was like Star Trek meets Joan Collins," he said with a laugh).

He described his mood as "very emotional" before heading out to the podium to conduct his final score with an orchestra of 37 musicians. The location, Stage M, has been the home of Star Trek music as far back as Alexander Courage's original pilot score, recorded in January 1965.

McCarthy was dressed in a short-sleeved green Hawaiian shirt and blue jeans, glasses hung around his neck. As he donned his headphones, he greeted the musicians, many of whom had played on dozens of previous Trek sessions: "It's great to see everybody for the last and final episode of our 18-year run." He conducted not with a baton but with a green Sharpie pen, a typically casual McCarthy trademark.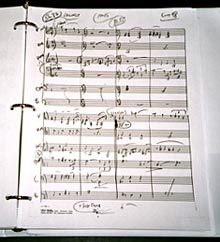 "M45" – the final cue of the final score for Star Trek: Enterprise.


Kevin Kiner, who creates the synthesizer elements for each McCarthy score, monitored the performance and the mix in the booth. Also present were supervising producer Peter Lauritson – who on a few occasions asked for minor changes in the music – and producer Dawn Velazquez. Contractor Carl Fortina, who has assembled the orchestras for every Star Trek session since 1987, was on hand as well as scoring-stage manager Stephanie Murray. The booth was filled with family (including McCarthy's wife Patty), friends and well-wishers.

McCarthy had approximately 15 minutes of music to record in a single three-hour session, but the high level of professionalism among the musicians allowed him in many cases to go straight to "record" without even a rehearsal. He frequently punctuated comments to the musicians with his favorite upbeat exclamation: "Yo!"

The music consisted of equal parts heroism, jeopardy, action and tragedy, befitting the final installment of Star Trek.

The finale was a 47-second piece that McCarthy saved for the final half-hour of the session.

"Enterprise number 98, M45, take 42," came the slate announcement from the booth. Majestic and powerful, combining elements of Alexander Courage's original Star Trek fanfare, Jerry Goldsmith's classic Star Trek movie theme and McCarthy's own Enterprise music, it elicited sustained applause in both the booth and among the musicians.

The moment was triumphant yet bittersweet: Musically, a perfect way to bid farewell to the multiple Enterprise crews and a memorable piece to conclude the last Trek episode. At the same time one sensed an undeniable melancholy in the knowledge that this was the end of a long odyssey, for both the creators of the many great Trek scores and for the series themselves.

A handful of brief cues remained, and as McCarthy prepared to record them, he told the musicians: "This has just been a joy for 18 years. Thank you, guys, it's just been brilliant." The final cue recorded, M32, take 53, was completed at 5:15 p.m. Many of the musicians joined composer and crew for wine and champagne after the session; a Star Trek-decorated cake in the booth had already been consumed.

In terms of numbers, McCarthy composed the scores for 88 episodes of Star Trek: The Next Generation, 73 of Deep Space Nine, 64 of Voyager and 29 of Enterprise. (Episodes that initially aired as two-hour shows are counted as one.) He arranged the Courage-Goldsmith main title for TNG; wrote the theme for Deep Space Nine; scored the seventh Trek feature Generations; and created the alternate-universe main-title theme that aired April 22 and 29 on Enterprise.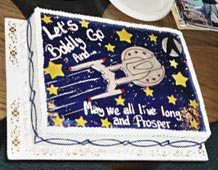 ...boldly going where no cake has gone before...


He was one of just 14 crew members who were with the Trek series from the 1987 launch of TNG. Now 61, McCarthy said he has no plans to retire but rather hopes to forge ahead with new projects in both longform television and feature films.

"These Are the Voyages..." will air as the second hour of a final two-hour Star Trek: Enterprise sendoff, beginning at 8 p.m. Eastern time Friday, May 13, on UPN. ("Terra Prime," the first hour, was scored by longtime Trek composer and fellow Emmy winner Jay Chattaway.) Video of the final Star Trek session will soon be visible at www.dennismccarthy.com.






May,

Error: DISTINCT YEAR query failed