Print this article
FMS FEATURE...


February 25, 2008

George Duning at 100

Composer of Picnic, Big Valley remembered on centennial
by Jon Burlingame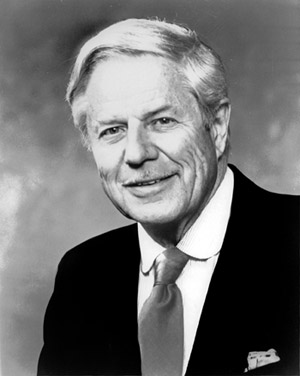 George Duning – the composer of Picnic, From Here to Eternity, The World of Suzie Wong, Bell, Book and Candle and TV's The Big Valley – would have turned 100 this week.

As film-music historian Tony Thomas put it in Music for the Movies: "His 40 years in film scoring represent a perfect example of a composer doing an expert job while never calling a great deal of attention to his work.... He was a personification of the old studio-system professional."

Duning, who died eight years ago, received five Academy Award nominations, for his original music for No Sad Songs for Me (1950), From Here to Eternity (1953) and Picnic (1955) and for musical adaptation in Jolson Sings Again (1949) and The Eddy Duchin Story (1956). In addition, he received Golden Globe nominations for The World of Suzie Wong (1960, best score) and Cry for Happy (1961, best song).

Picnic was probably the best-known of Duning's 100-plus film scores, and it won a Down Beat award as the year's best score for a non-musical film. Its masterful intertwining of a dance-band arrangement of the popular standard "Moonglow" with his own love theme, set against a steamy scene between William Holden and Kim Novak, is a classic. It reached no. 1 on radio's Hit Parade in 1956.

Duning was born Feb. 25, 1908, in Richmond, Ind., the son of a grocer and a piano teacher. The family moved to Ohio when he was a child; in Cincinnati he took up the trumpet as a teenager and began writing and conducting. His first formal training was at the Cincinnati Conservatory prior to going on the road at 18 as a jazz player. (He later studied with Mario Castelnuovo-Tedesco in Hollywood.)

He quit playing in 1934 to become a full-time arranger and spent more than a decade writing for radio, including eight years as music director and supervisor for Kay Kyser's Kollege of Musical Knowledge on NBC. He also arranged and conducted bandleader Meredith Willson's Armed Forces Radio show Command Performance near the end of World War II.

As Duning recalled in a 1992 interview, he began his film career by doing production arrangements for Columbia Pictures in 1944 and thus got acquainted with Columbia music director Morris Stoloff. When Duning was discharged from wartime service in 1946, Stoloff offered him a contract, initially as an orchestrator and arranger.

His first film as composer was Johnny O'Clock (1947). "It worked beautifully, everybody was happy, and that was actually the beginning of my career as a motion picture scorer," Duning said. He soon met Arthur Morton, a Columbia fixture who "orchestrated almost every picture that I did," Duning recalled. "Arthur was the best thing that ever happened to us."

Like most of the great film composers, however, Duning's "short scores" were thorough in setting out his musical ideas. "As I compose, I'm practically orchestrating in my head," he said, although when he shifted from films to TV in the 1960s and 1970s he usually orchestrated his own scores.

The process at Columbia, according to Duning, was that Stoloff would give him a script – often while shooting was still underway – "so I knew ahead of time what the story was going to be." Later, Stoloff and Duning would run the edited film and "spot" the picture to determine where music should go. A music editor would prepare "cue sheets" with detailed information about the action and dialogue in scenes to be scored.

"In later years," Duning added, "after I left Columbia and started to freelance, I would insist to the producer and director to let me run the picture by myself at least once so I could get the dramatic feel, the pacing, how it worked. And then I would sit down with the producer and director and we would discuss where they wanted music."

According to Duning, Picnic director Joshua Logan insisted on using "Moonglow" in a critical scene, as had been done in the Broadway play, but demanded that Duning's love theme be added at a specific point. Duning recalled Stoloff's reply: "Well, Josh, you can't. You've got that band you insisted on using," to which Logan replied, "I don't care! I want to hear Picnic right there." Stoloff and Duning complied, creating a unique arrangement of the song and the movie theme.

It became an iconic moment in 1950s cinema, and a pairing of tunes that would thereafter seem inextricably intertwined. More than two dozen recordings followed the hit soundtrack recording – a single of which went to no. 1 on the Billboard charts – including versions by Perry Como, Harry James, Liberace, Si Zentner and, two decades later, even a disco arrangement by Lalo Schifrin.

Duning remained at Columbia for 17 years where, in addition to Picnic, he supplied the wartime sounds of From Here to Eternity (1953), a classic western score including a theme sung by Frankie Laine for 3:10 to Yuma (1957), the lighthearted music of Bell, Book and Candle (1958), an appropriately exotic backdrop for the animated Mr. Magoo feature 1,001 Arabian Nights (1959) and the suspense of The Devil at 4 O'Clock (1961). For other studios, he scored the Cary Grant comedy Houseboat (1960), the Far Eastern romance The World of Suzie Wong (1960) and the bluesy Toys in the Attic (1963), among many other films.

As longtime colleague Arthur Morton once said of Duning: "He has always had a shrewd sense of what would and wouldn't work in scoring films, of what you could and couldn't do. George is a first-class musician and working with him was a pleasure."

The gradual demise of the studio system and a general slowdown in work for older composers led Duning into the world of television scoring.

"Less time, lack of budget," Duning lamented. "In motion pictures, you could have anywhere from 45, 50, 60 musicians on up. In television, if you got an orchestra of 35, you were doing very, very well in those days. So I'd figure out how many cues I could do in three hours with 35 players; and then how many cues I could do in the next three hours, cutting it down to maybe 22 or 23. It was a matter of logistics, figuring out how much money can you get, how many musicians you can use, and for how long. It took a lot of finagling."

Still, Duning's shift into TV produced memorable, even classic work. He began with the theme for the police drama The Naked City (1958), which he adapted into a Colpix concept album with the help of lyricist Ned Washington. Mike Connors' detective drama Tightrope! followed (1959) along with several other series, both comedies (Glynis, 1963) and dramas (The Most Deadly Game, 1970).

Duning's greatest achievement in television was his work on The Big Valley (1965), a soaring, wide-open-spaces theme for the western that starred Barbara Stanwyck and Lee Majors. He scored the pilot and several episodes, and later adapted his atmospheric Americana and multiple themes – including a lyrical melody for Audra, played by Linda Evans – into a lavish and lively soundtrack album (recorded in Italy by conductor Ray Heindorf).

Yet, because of its vast worldwide exposure, Duning's best-known television work is probably the music he wrote for the original Star Trek (in 1967 and '68). Associate producer Robert H. Justman, who chose most of the composers, remembered liking Duning's romantic approach to many film scores: "His first score for us wasn't until the second season. He did 'Metamorphosis.' It was a lovely, kind of emotional show. I heard what he did with it, and I made a mental note that from then on, whenever I would get a soft show, I would go for George."

Duning scored two complete episodes in the second season ("Metamorphosis" and "Return to Tomorrow") and parts of another ("Patterns of Force") and three in the third season ("And the Children Shall Lead," "Is There in Truth No Beauty?" and "The Empath"). Although he generally eschewed non-acoustic music, he did employ the Yamaha E3 organ ("the only concession I made for science fiction," he said). Suites from two Duning scores, "The Empath" and "Is There in Truth No Beauty?" were later re-recorded and released on records.

Justman later hired Duning to write the theme, score the pilot and several individual episodes of the Michael Parks motorcyclist-on-the-road drama Then Came Bronson (1969).

He did other shows including Daniel Boone, Cimarron Strip, Mannix, The Time Tunnel and more; served as music director for Aaron Spelling Productions in 1970-71; and scored several TV-movies and miniseries including The Dream Merchants (1980) and Goliath Awaits (1981).

Duning retired in 1983. He received a career achievement award from the Society for the Preservation of Film Music (forerunner of The Film Music Society) in 1987. He died Feb. 27, 2000, just two days after his 92nd birthday.






Error: DISTINCT YEAR query failed