Print this article
FMS FEATURE...


February 25, 2008

Score, Song Oscars to Marianelli, Hansard and Irglova

Academy reaffirms music as universal language
by Jon Burlingame
H

OLLYWOOD—This year's Oscars for music went to an international trio: Italian-born, London-based Dario Marianelli and the singer-songwriter duo of Irish-born Glen Hansard and Czech-born Marketa Irglova.

Marianelli accepted the original-score Oscar for Atonement, his second collaboration with director Joe Wright; his 2005 score for Wright's Pride & Prejudice earned Marianelli his first Oscar nomination.

"Falling Slowly" from Once, written and performed in the film by Hansard and Irglova, was a crowd-pleasing choice for Best Original Song. A stunned Hansard took the podium and asked "What are we doin' here? This is mad!" But after Oscar music director Bill Conti's orchestra drowned out Irglova's attempt at an acceptance speech, host Jon Stewart brought her back out to the stage. Her heartfelt statement that "hope, at the end of the day, connects us all, no matter how different we are," clearly connected with the appreciative audience at the Kodak Theatre.

In addition to Hansard and Irglova's on-stage performance of "Falling Slowly," the Oscarcast also showcased all three nominated songs from Enchanted – the Disney film's star Amy Adams sang "Happy Working Song," Kristin Chenoweth performed "That's How You Know" and Jon McLaughlin sang "So Close" – and 11-year-old Jamia Simone Nash, the IMPACT Repertory Theatre of Harlem and the Total Praise Community Choir performed the rousing, gospel-flavored "Raise It Up" from August Rush.

The only musician saluted during the annual "In Memoriam" film montage was songwriter Ray Evans, although the producers were obviously confused when looking at the footage of Evans and his longtime partner Jay Livingston collecting one of their three Oscars (for "Buttons and Bows," "Que Sera, Sera" and "Mona Lisa") because they mistakenly chose to focus on Livingston (who died in 2001), not on Evans.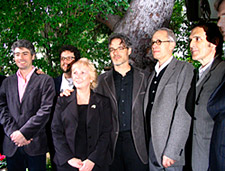 Score nominees (from left) Dario Marianelli, Michael Giacchino, ASCAP Senior VP Nancy Knutsen, Marco Beltrami, James Newton Howard and Alberto Iglesias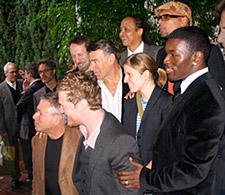 Song nominees (from left) Alan Menken, Glen Hansard, Academy music-branch Governor Charles Bernstein, Stephen Schwartz, Jamal Joseph, Marketa Irglova, Tevin Thomas and Charles Mack

All five score nominees – including Michael Giacchino (Ratatouille), James Newton Howard (Michael Clayton), Alberto Iglesias (The Kite Runner) and Marco Beltrami (3:10 to Yuma) – appeared at Saturday afternoon's annual Oscar-music reception, sponsored by the Society of Composers & Lyricists at the Beverly Hills home of composer John Cacavas.

In addition, all of the song nominees – including Enchanted songwriters Alan Menken and Stephen Schwartz, and August Rush songwriters Jamal Joseph, Charles Mack and Tevin Thomas – appeared, with a special surprise for attendees when Hansard and Irglova performed their nominated tune from Once for the crowd.

The only other music-related oddity of ABC's 3-hour, 22-minute telecast of the 80th annual Academy Awards was the choice of a jazz arrangement of Lalo Schifrin's television theme for Mission: Impossible for most of the five-minute end-credit music. Perhaps Conti chose it because just getting this year's show together in a week after the writers' strike ended was a nearly impossible task.