Print this article
FMS FEATURE...


July 19, 2012

Diverse Crowd Nominated for Music Emmys

Fraser, Shaiman among veterans named
by Jon Burlingame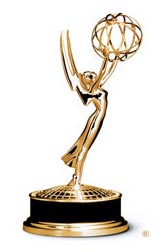 N

ORTH HOLLYWOOD, Calif.—A diverse and surprisingly international crowd received Emmy nominations in the music categories on Thursday when the Academy of Television Arts & Sciences announced the nominations for the 64th annual Primetime Emmy Awards covering the 2011-2012 season.

Among the veterans, Ian Fraser received his 31st music nomination (counting those from both the ATAS and its competitor, the National Academy of Television Arts & Sciences) for overseeing the music on TNT's Christmas in Washington; and Marc Shaiman received two nominations for NBC's Broadway drama Smash – one for the showstopping song from the pilot, "Let Me Be Your Star," shared with his songwriting partner Scott Wittman; and one for dramatic score, shared with composer Chris Bacon.

Several composers more closely associated with movies received Emmy nominations, including Michael Giacchino (Oscar winner for Up), who was acknowledged for his music for the Disney Christmas special Prep & Landing: Naughty vs. Nice; Theodore Shapiro (composer of The Devil Wears Prada and Tropic Thunder) for his music for HBO's Game Change; and Gustavo Santaolalla (Oscar winner for Brokeback Mountain and Babel) for his title music for AMC's Hell on Wheels.

Among other big-screen composers nominated for their television work were Javier Navarrete (composer of Pan's Labyrinth), who scored the HBO film Hemingway and Gellhorn; John Debney (whose 1980s and 1990s TV work netted him three Emmys and who has gone on to do such films as The Passion of the Christ) for the miniseries Hatfields & McCoys (shared with Tony Morales); and David Arnold (composer of five James Bond films including Casino Royale), who received a second nomination for his music for the PBS Masterpiece series Sherlock: A Scandal in Belgravia (shared with composer Michael Price).

Competing against Shaiman and Bacon in the Music Composition for a Series (Original Dramatic Score) category are two-time Emmy winner Trevor Morris (The Tudors, The Borgias) for The Borgias; previous Emmy nominees John Lunn for Downton Abbey and Blake Neely for the Pan Am pilot; and Jeff Richmond for 30 Rock (Richmond has three Emmys as a producer on 30 Rock and two others as its composer).

Competing against Giacchino, Shapiro, Navarrete and the Debney-Morales and Arnold-Price teams in the category of Music Composition for a Miniseries, Movie or Special (Original Dramatic Score) is Robert Duncan for an episode of ABC's Missing.

Fraser leads off the competition for Outstanding Music Direction. Other nominees include Steven A. Gibson for the country-music installment of PBS's In Performance at the White House; Rob Berman and Rob Mathes for The Kennedy Center Honors (Berman has three previous nominations, Mathes five); Bill Elliott for the PBS special Michael Feinstein: The Sinatra Legacy; previous Emmy winner Joel McNeely (The Young Indiana Jones Chronicles), for music direction and arrangements on the EPIX special Seth MacFarlane: Swingin' in Concert; and Michael Tilson Thomas, a prior three-time nominee up for his PBS Great Performances special The Thomashefskys: Music and Memories of a Life in the Yiddish Theater.

Competing against Santaolalla for the Emmy for Original Main Title Theme Music are previous nominee Martin Phipps, for PBS's Masterpiece version of Great Expectations; three-time Emmy winner Sean Callery (24), for Showtime's Homeland; first-time nominee Paul Englishby for the Masterpiece tale Page Eight; and previous winners Lisa Coleman and Wendy Melvoin (Nurse Jackie) for Fox's Touch.

Shaiman and Wittman, who wrote nearly all the songs for Smash, were permitted to enter only one in this year's Original Music and Lyrics category. Competing against them are first-time nominees Matthew West, for the title song of the GMC special The Heart of Christmas, and Matthew W. Thompson, for "Welcome Back to Hope" for the Fox series Raising Hope. Two other songs were penned by veterans of the Emmy wars: Previous winners Seth Meyers and John Mulaney (joined by first-timer Eli Brueggemann) for "I Can't Believe I'm Hosting" from the Jason Segel episode of Saturday Night Live; and previous nominee Adam Schlesinger and 11-time winner David Javerbaum (as writer and producer of The Daily Show) for "It's Not Just for Gays Anymore," which Neil Patrick Harris sang as host of the 65th Annual Tony Awards.

Among the surprising omissions were Mark Isham's music for the popular ABC fantasy Once Upon a Time; and the failure of any of the top-rated music competition shows (American Idol, The Voice, The X Factor, Dancing With the Stars) to score a nomination in the music-direction category.

The music Emmys will be presented at the Primetime Creative Arts Emmy Awards on Sept. 15. The big Emmy show airs Sept. 23 on ABC.






Error: DISTINCT YEAR query failed